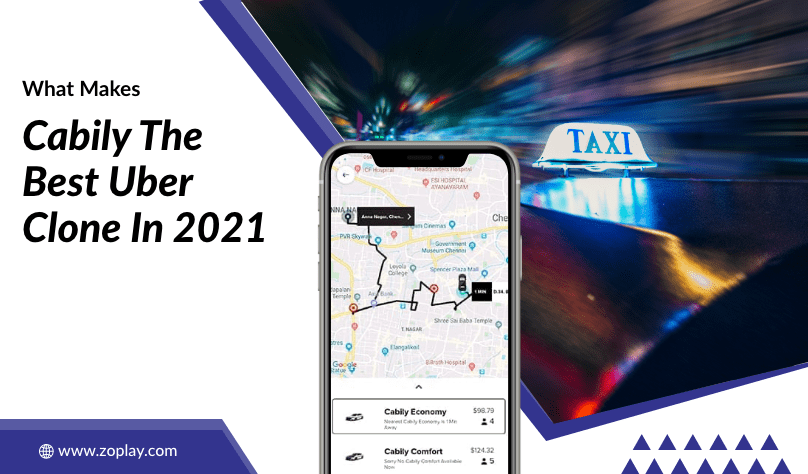 What Makes Cabily The Best Uber Clone In 2021?
What Makes Cabily The Best Uber Clone In 2021?
When Uber's ride-hailing app came into existence, it rose to fame rather quickly. Considering it a good example, taxi companies wanting to launch their cab apps today emulate Uber's functionalities. Building an Uber-like app that contains Uber-like features from scratch is doable. But, there are many downsides to this approach. It consumes a massive amount of resources, time, and costs.
Software development companies offer what is known as an Uber clone app. It eliminates app development hurdles. Launching an Uber clone app is way less expensive and time-consuming compared to building and deploying an app from the ground up.
If you are thinking of investing in an Uber clone app, you will find way too many choices in the market. We recommend Cabily. In this article, we delve deep into what makes Cabily the best Uber clone app in 2021. Let us get started.
What is an Uber Clone App?
An Uber clone app is a ready-made software application that contains features similar to Uber's original ride-hailing app. By altering its source code, you can modify its features, add new features, change the theme of its interface, and more. At the end of personalizing it, you will have an innovative taxi app unlike any other in the market.
Purchasing an Uber clone app is the best choice for entrepreneurs who want to launch an Uber-like app swiftly. It cuts out expensive costs and time while retaining the integrity and functionalities of a premium ride-hailing mobile software.
The Rise in Demand for Uber Clone Apps
In the earlier days, launching a world-class taxi app was an expensive feat. And because of that, cab companies could not transition from offline to online services. That is not the case anymore today. The emergence of Uber clone apps has made deploying robust, feature-loaded apps affordable. The process of planning and launching it in the market has also become quick.
At present, taxi companies can launch a high-quality Uber-like app in just a few days. Uber clone app scripts are 100% customizable. So, all Uber clone scripts require are some personalization and rebranding, then it is ready for launch. This ease has led to a rise in demand for Uber clone apps.
Why Cabily Is the Best Uber Clone App in 2021?
With the rise in demand for Uber clone apps, many software development companies that offer these solutions have surfaced. However, not all of them are reliable, secure, and bug-free. On the flip side, Cabily satisfies all your taxi app requirements with state-of-the-art features. Let us look at some of the important ones that make Cabily the best Uber clone app in 2021.
1. SOS button
Cabily has an SOS button to reassure passengers of safe commutes from their boarding point to their destination. If customers sense suspicion with their rides, they can press this button to reach emergency services immediately. This feature improves the credibility of your taxi services.
2. Feedback system
The more you satisfy the needs of your customers, the more passengers your taxi app will garner. Cabily offers customers and drivers a comprehensive feedback system. Using it, drivers and passengers can give feedback about each other and the service. By collecting and consolidating this information, you can effectively optimize your taxi services. It helps raise customer satisfaction as well as driver satisfaction.
3. Schedule bookings
Besides the feature to book cabs immediately, having the option to book cabs in advance is of great use. Cabily allows passengers to schedule taxi pick up and drop at a specific date and time. This way, passengers need not worry about the availability of cabs.
4. GPS tracking
Giving customers an accurate time estimate of when your cabs will pick and drop them off is crucial. Cabily facilitates this with a comprehensive GPS tracking system. Customers can view where their cabs are in real-time. Similarly, drivers can view the exact location of customers and how long it will take to reach them.
5. In-app chat
Drivers and passengers may want to communicate with each other for various reasons. Moreover, customers may need to contact customer support. Communication between these parties is simple with Cabily's in-app chat feature. All the entities can seamlessly communicate with each other by texting in-app itself.
Notable Qualities of Cabily
Fully customizable
Cabily lets you customize various aspects of the app. From visuals to features, you can personalize the software to suit your business requirements. You receive the complete source code of the app that you can alter with your own set of developers. Alternatively, you can hire our expert developers.
Secure
Cabily takes sensitive information seriously. It safeguards app data from getting into the wrong hands with cutting-edge security layers and protocols. By using Cabily, your customers will entrust your app to store their personal information such as payment details, contact addresses, saved addresses, and more.
Easy to use
A cluttered user interface that is difficult to navigate through deters potential customers from using the app. Cabily has a minimalistic, visually appealing user interface. Its navigation buttons are well-spaced out and, the features are easy to use.
Wrapping up
Launch a comprehensive ride-hailing app that customers will take a great liking to by purchasing Cabily. In addition to all of its impeccable features and qualities, it has excellent customer support. Take your taxi business to the next level. Contact us to purchase Cabily, the best Uber clone app in 2021 today.