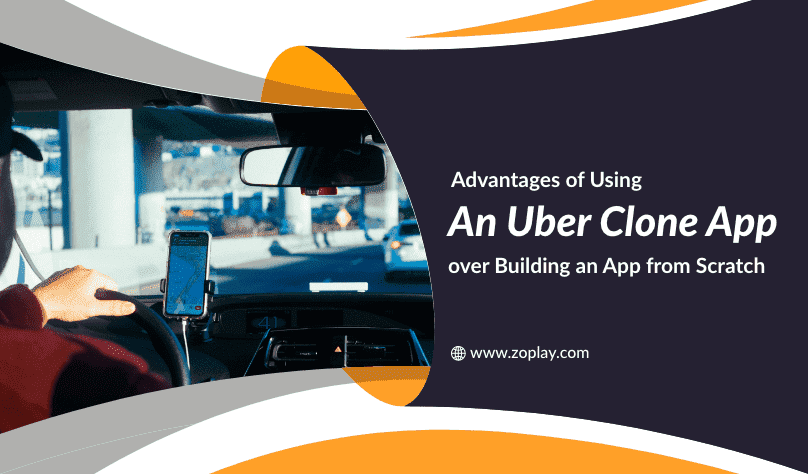 Advantages of Using an Uber Clone Over Building an App from Scratch
Advantages of Using an Uber Clone App Over Building an App from Scratch
Smartphone applications are all the rage today. They are convenient to operate. Using them requires just a few swipes and taps. As almost all consumers have smartphones in their pockets, launching mobile software to provide products and services is helping companies generate more profits than ever before.
Traditionally, taxi companies that wanted to launch a taxi app needed to contact a custom app development company. The development team there would build the app from its fundamental base. At present, that is not the only way to deploy a taxi mobile application in the market.
When it comes to publishing your very own ride-hailing mobile app, there are two ways of doing it. You can develop the app from scratch, or you can use an Uber clone app. Each of these two methods of launching a taxi app varies in terms of costs, time, and resources. In this article, we explain why using an Uber clone app is better than building a taxi app from scratch. Let's get started.
Building an App from the Ground Up
Building an app right from the very beginning means orchestrating every little detail of your app from scratch. While it gives you the creative freedom to implement groundbreaking features, there are several factors you will need to sacrifice for this process. They are expenses, time, and a pool of resources. Let us take a deeper look into the challenges of building a taxi app from zero.
Challenges of Building an App from Scratch
1. Hiring Talents
Building and making sure that all your app's components work properly requires well-trained talents. Individuals you would need for the job include market strategists, designers, developers, quality assurance, and sales specialists. Hiring and putting the team together incurs a lot of costs and time.
2. Choosing the Right Tech Stack
Creating an app from the ground up calls for choosing the correct technology framework. It depends on what type of taxi app you want to build – whether native, hybrid, or cross-platform software. Changing your tech stack after finalizing it or simply choosing an outdated framework can result in costly expenses, shoddy app performance, and a waste of time.
3. UI/UX Design
Creating a taxi app's user interface from nothing can be an immensely time-consuming process. Before developing the software's interface, you will have to plan what your app should look and feel like beforehand. Once you have figured that out, you will need to focus on how usable the interface is. Making the layout of your app simple to use can cost you additional time and resources.
4. Coding Features
There are many essential features that taxi apps cannot do without. Coding them from the very beginning can pose several challenges. They may not work as expected, may not be an essential feature, or may need a lot of time to build.
5. Making the App Customer-centric
Finally, making the app a user favorite can be challenging when you build it from the ground up. You may have a lot of innovative ideas for how you want your app to operate. But if it is not what customers want, then it can hinder the prospects of the app. To know what customers, want, you will need to do plenty of market research before building the app.
Using an Uber clone app
Launching a taxi mobile application with an Uber clone app eliminates all the problems building an app from scratch brings about. It gets rid of the need for comprehensive planning, the costs of hiring, and more. There are many reasons why Uber clone apps are rising in popularity. One significant reason is that they enable entrepreneurs to launch world-class Uber-like apps quickly. Let us take a look at the advantages of using an Uber clone app.
1. Cost-effective
Clone apps come pre-loaded with industry-leading features like those that are present in the Uber ride-hailing app. In addition to that, they have simple user interfaces. With all these components in the app already, you save costs on hiring talents and market research.
2. Customizable
Uber clone apps are ready to go. More importantly, they are customizable. You can personalize it according to your business preferences by:
Rebranding it

Changing the color theme of the app

Modifying pre-built features

Altering content and more.
3. Fast Time to Market
When you build an app from scratch, you need to perform extensive testing and optimization for app stores. That is not the case when you use an Uber clone app. It is pre-tested and ready for launch. After some customization of the app according to your liking, you can immediately launch it on Android and iOS app stores.
4. Higher Rate of Success
Uber clone apps are highly similar to that of the world's leading taxi app that is Uber. The clone apps have a wide range of features that are similar to Uber's. Because of that, customers will find your taxi app on par with top-notch taxi apps. It saves you from guessing what features your customers will like and will not like. In turn, clone apps result in a higher rate of success.
5. Scalable
Lastly, Uber clone apps are easily scalable. The clone scripts are 100% customizable. So when your operations grow and you feel the need to scale up your taxi app, the clone scripts allow you to do so effortlessly.
Wrapping up
Purchasing an Uber clone app is the ideal solution for entrepreneurs. Especially for those who want to launch a stellar app quickly and cost-effectively. A clone app saves you a lot of time and expenses compared to building an app from scratch. Are you looking for a reliable Uber clone app? Then get Cabily from Zoplay. It is rich in features, completely customizable, and a one-time investment. Get in touch with us to know more.