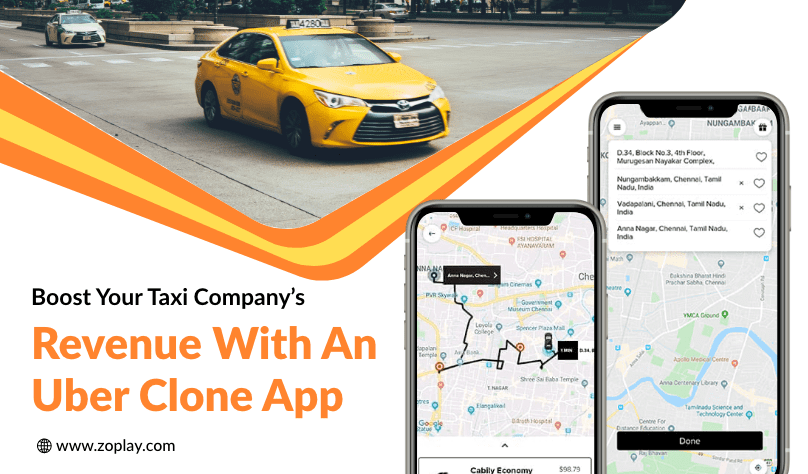 Boost Your Taxi Company's Revenue With An Uber Clone App
Boost Your Taxi Company's Revenue With An Uber Clone App
The taxi industry has drastically evolved over the years. When taxi apps came into existence, they marked a turning point for the sector.
A significant amount of people around the world are no longer making long phone calls. Nor are they waving down taxis to hire cabs. At present, customers can get a cab to pick them up from any location with just a few taps of a button. No conversation is necessary. Customers can specify what type of taxi they want to hire, what facilities they want it to have, and more.
According to Business of Apps, the market value of taxi apps is projected to reach $115 billion by 2024. At the same time, offline taxi services are facing increasing difficulties in keeping up with the current market trends. If you decide to move your taxi services online via an app, your business will be on par with your competitors in this segment. Consequently, the revenue your taxi company generates will see an upward trend.
The best way to launch a taxi app is to purchase an Uber clone app. It contains features similar to that of the original app by Uber. An Uber clone app only requires personalization. After that, you can deploy it on app markets in no time. In this article, we talk about how your taxi company's revenue will gain a boost with an Uber clone app. Let's get started.
The Change in Ride-Hailing Behavior
There is a tectonic shift from the way customers hailed cabs in the earlier days. As smartphone sales continue to rise every year, consumers have taken to apps for purchasing products and hiring services. This trend is significantly transforming the way customers hire taxis.
Booking taxis using a comprehensive mobile application is incredibly convenient for customers. It circumvents having long conversations regarding the type of cab required, mentioning the pickup location, and more. With just basic knowledge of how to use a smartphone, anybody can book a cab within a matter of seconds. Leveraging this technology for your taxi company will boost its revenue.
How Much Revenue Does Uber Make?
Uber has set the standard for what functionalities a taxi app must-have. Since its inception, the ride-hailing service of Uber has quickly gone on to become the leading app in the taxi segment. In 2020, Uber generated a whopping revenue of $11.1 billion. There is no doubt that Uber's got the ride-hailing app formula. Many of the features built into its app are now essential in any upcoming ride-hailing app. By emulating what the ride-hailing app by Uber offers, you can launch a world-class app too. An Uber clone app is the perfect solution for the job.
Features That Uber Clone Apps Have in Common
Simply put, an Uber clone app is an emulation of the original Uber app. It means the clone software will have all or even more features than that of the original software. When you purchase an Uber clone app, there are certain features that you will commonly find in all of them. Even though different software development companies offer various Uber clone apps. Common features include:
Multiple payment gateways

GPS tracking

In-app chat

Social sign in

Schedule cab rides
How Does an Uber Clone App Improve Your Taxi Company's Revenue?
Now let's discuss how all the functionalities Uber clone apps have to offer will result in a boost in your taxi company's revenue.
Easy to Book
Uber clone apps allow your customers to sign up on your application effortlessly. After doing so, they can book a cab to pick them up at their location immediately. Uber clone apps make hiring cabs a seamless and hassle-free process.
Multiple Payment Modes
Restricting customers to pay for taxi rides only by cash affects the growth of your customer base. On the bright side, Uber clone apps give customers the freedom to pay by either cash, debit/credit cards, and even mobile wallets.
Real-time Tracking
Unlike booking taxis offline, booking taxis via an Uber clone app lets customers view the location of their cabs in real-time. Customers get comprehensive information about their commute such as:
What their driver's name is

How long it will take for the cabs to reach their destination

The duration of the commute
 

Simple Customer Support
Customers using an Uber clone app can reach customer support with just a tap of a button. They get the choice of whether they want to talk to a support representative or if they want to text inside of the app itself. By attending to their concerns instantly, your customers will be happy with your service.
Automated Services
When you use an Uber clone app to offer your taxi services, you cut down a significant amount of time, workload, and expenses. Because the app automates crucial processes such as:
Assigning a cab

Displaying description of the driver

Payment processing

Providing answers for frequently asked questions
Conclusion
Shifting your taxi services online with the help of an Uber clone app can substantially improve the revenue you generate. With an outstanding Uber-like app, you can garner a large customer base and tap into the online revenue stream. There are many Uber app clones in the market, but only a handful of them are reliable. We recommend purchasing Cabily. It is packed with the latest features, is secure, and has excellent support. Get in touch with us to know more.