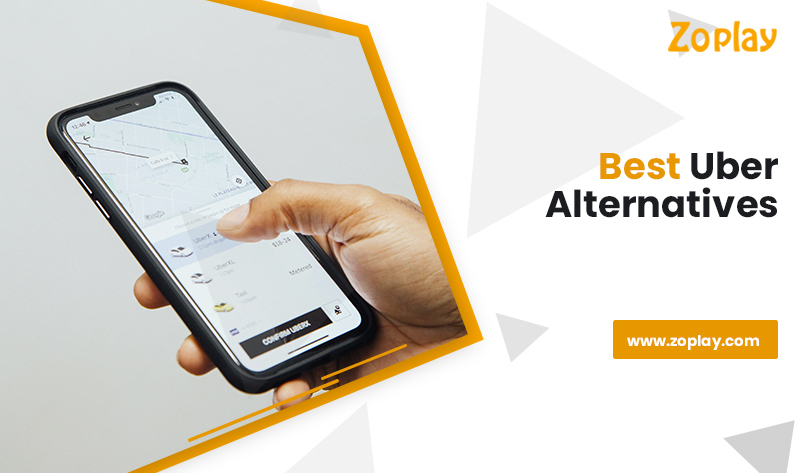 List of 17 Alternatives to Uber 
CAREEM
Careem is a mobile application that is running across the greater Middle East region. It provides users with the option of hiring a taxi. Founded in 2012, Careem has its headquarters in Dubai. It is currently providing services in 100+ cities across 12 countries.
In the month of January 2020, Careem became a wholly-owned subsidiary of Uber for a price of $3.1 billion. Careem is popular in the Middle East. It is because of its Feedback & Ratings feature, which enables consumers to rate a Careem driver on a scale of 1 to 5.
A rating between 1 and 3 enforces the user to specify the reason for the rating. The admin can address this feedback later accordingly. It is a helpful feature, so we have added this to the Cabily Application.
OLA
The OLA application provides mobility solutions to users. They do it through a wide range of vehicles ranging from cabs, auto-rickshaws, and bikes. ANI Technology Pvt. Ltd. founded the company in Bengaluru, Karnataka, and it has a current valuation of $10 billion. The company has a network of 1.5 million drivers, which spans across 250 cities.
Recently, OLA launched two new features, namely Rich Notifications and Real-Time Notifications. Using the rich notification feature, the user will receive immediate notification. It will contain the details of their bookings. Apart from the driver's contact details, the details will also include the car model and number.
The Real-Time Notification sends push notifications to a user when the surge pricing drops. It also sends a notification whenever a cab is available during peak hours. We have added this feature to the Uber clone application with the intent to enhance the user experience.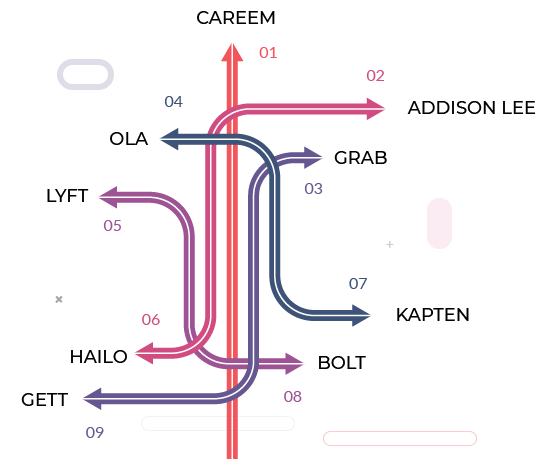 LYFT
LYFT is one of the biggest ride-sharing taxi company in the USA, with a 28% market share. Based in San Francisco, LYFT is currently functioning across 644 cities in the US and 12 cities in Canada. A recent report laid out that the company with present valuation of $15.1 billion, and by the end of 2020. The Estimated valuation is $23 billion by 2023.
One of the primary reasons for the app's rapid growth is the In-App Emergency Assistance feature. In case of emergencies, the rider can use the in-app emergency assistance feature to call 911. The app will automatically dispatch the car's model, license number, and GPS location to the nearby 911 dispatchers. This additional safety feature has shot up the growth of LYFT. Hence we have also incorporated this feature to the uber app clone.
HAILO
Started in 2011, Hailo has a mobile platform that matches the taxi drivers and passengers for cab sharing. In 2013, Hailo successfully delivered more than three million rides. Also, they have over 30,000 drivers registering themselves.
One of the popular features in the Hailo app was the Driver Dashboard. It provided an amalgamation of the work done by the drivers. Apart from working activities, drivers can also have an in-depth analysis of their accounts.
Driver Dashboard feature disclosed details on a daily, weekly, and even monthly basis. It has data such as trips, canceled trips, the amount earned, and reviews. It also allows drivers to update personal information. They can update information such as emergency contact and profile details.
Keeping in mind the ease of access this provides to the drivers, we have also installed this feature in our uber-like app.
GRAB
Grab Holding INC, also known as Grab, is a multidimensional app. It provides logistics, food, taxi, and banking services to its customers. The app has 144+ million downloads. It also has over 9 million service providers registered with them.
A recent report stated that the company has managed to raise a funding of $856 million in Feb 2020. Providing a safe and secure e-wallet is a must for any mobile application that has a payment gateway.
Grab recently added this feature by which the users. People who have undergone the KYC process can enjoy enhanced e-wallet options. It will provide a better-secured framework. We at Zoplay, have also ensured that the app comes with a safe and secure e-wallet feature for its users.
GETT
Gett is a mobile application founded in Israel. It provides transportation services consisting of advanced backend technology for its clients. Gett now offers services to over 15000 corporations across 100 countries.
Gett has managed to raise a whopping $800 million in funding over the years. They raised from the Volkswagen Group contributing over $300 million. It is currently operating across the US, UK, Russia, and Israel.
Gett introduced this feature through which visually impaired people can access their application. They can do it by enabling VoiceOver or TalkBack feature, which comes with every mobile phone. This feature will be immensely helpful for visually impaired people. It will help them to speed up the current technological requirements. So we have added this feature to the cabily bundle.
BOLT
Bolt is a company founded in Estonia for ride-hailing and food delivery.
Bolt is currently operating in 150 cities across 35 countries and has a customer base of over 30 million. It is one of the fastest-growing startups in the world. It has a valuation of $1 billion in just five years since its inception.
One of the revered aspects of Bolt is that it allows riders to add extra stops to a pre-booked ride. This feature allows users to add up to 3 stops in-between a trip. The algorithm behind the app calculates and displays the fares accordingly. We have added the multiple stops feature to the cabily application.
KAPTEN
KAPTEN is an app functioning majorly in European countries. Founded in France in 2012 and later merged with German carmakers BMW and Daimler.
They have a customer base of over 10 million users across 15 European cities by 2020. The rise of Kapten has undoubtedly been a case study in itself. One of the major reasons for their success is the Referral bonuses that the company lets out to its users.
Existing users can add a new user to sign in through their unique referral code. Whenever they add a new user X % discount, for the next Y rides will get rewarded to the new user. You can also add a bonus to the existing user. We have added this method of awarding referral bonuses to the customers to the cabily app.
ADDISON LEE
Based in London, Addison Lee runs a ride-hailing application. It allows the hiring of premium taxis and courier services for its customers. The company has more than 4000 vehicles. Also, it has an estimated revenue of £900 million. It is a fast-growing organization and is now offering services to more than 80 countries in the world.
Addison Lee has this feature in its app. Before the scheduled pickup time, it allows users to snooze a ride for 15 minutes. Users can delay the arrival of their ride from 15-60 minutes. They can do it based on their requirements as many times as possible. We have also introduced this feature to our uber clone application. It makes it more user-friendly.
HEETCH
Heetch is a French startup that provided cab services from 8 pm to 6 am on Thursdays to Saturdays. Currently, Heetch is one of the top three companies responsible for urban portability in France. Heetch gradually started providing services 24*7 post-2017. Since then, it has been growing at a rapid rate.
As the company began to grow, they faced many challenges. Primarily they faced difficulties in maintaining logistics and operations. Managing the backend was becoming a tedious task. That's why they rolled out the centralized admin interface using Forest technology. It helped to solve the data reconciliation issue successfully.
Using this advanced, user-friendly interface, it became easy to onboard the driver. It also made it easy to track their records. To help the backend team, we have installed a similar feature on the Uber app clone as well.
DIDI CHUXING
DIDI CHUXING is a Chinese company headquartered in Beijing. They are providing an array of transportation services, from taxi-hailing to food delivery. Also, they are providing automobile services to sales. As per a report, Didi Chuxing has over 550 million users. They also have tens of millions of registered drivers. They are operating across Asia, Latin America, and Australia.
In 2018, Didi Chuxing launched a Biometric ID testing for drivers. It has helped to ensure better safety measures for its customers. The application will scan the details of the drivers against the massive databases. Then, they will inform the organizations accordingly.
Installing such features helps in gaining user confidence. It will eventually lead to a better and safer environment. So we have added this feature to the cabily app as well.
BLA BLA CAR 
They named it as BLA BLA CAR because their idea was to provide ratings on a scale. The scale can be of BLA to BLABLA for the drivers based on their chattiness.
BlaBlaCar is a French online platform. It allows car users and passengers to connect and travel to a mutual destination by sharing the costs. It is the world's leading carpooling platform. It has 87 million users across 22 countries.
Bla Bla Car recently launched an ID Verification feature in its operations in India. To use the ID Verification feature, members have to upload a scanned document of their ID's. Then it will match the details of those documents with the Government Database using API. The cabily app now comes with a similar ID verification feature. It will provide a better and more comfortable carpooling option to its users.
VIA VAN 
Via Van is one of the leading providers for online shared taxi services. They started it as a joint venture amongst Mercedes-Benz Vans and US-based vehicle sharing service Via.
ViaVan allows other private organizations to use their technologies. They allow them to create their shared transit networks. According to a report, Via Van has a current market valuation of $750 million.
Via Van also has this great feature of providing individual referral codes for consumers. By using that, they can invite further friends and acquaintances. They can do it via social media, email, and texts to download the app using their unique code.
For every friend who completes their first ride after signing-in using the unique code, the user will get a $10 credit. Our uber clone app: cabily now comes with a similar Referral Code feature. It will help to entice more users into downloading the application.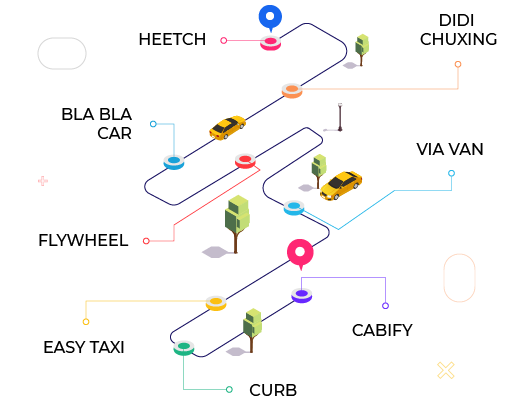 CURB
Verifone Taxi Systems introduced a mobile application named Curb. It connects riders to safe and reliable professional drivers. They are serving across 65 US cities and tries to provide effortless transit service. Curb has received $20.7 million in total funding and has managed to raise $666.7k in revenue per employee.
Curb has cleverly used the location-based incentive feature. They use it to promote advertisers and themselves in drawing people to local events. They do it using their cab services using discounted promo codes.
Location-based advertisements analyze the user's location. It provides relevant and local events within a 50-mile radius of the user. Then they use this information to promote it on its own social media channels. This feature drove a 300% increase in the app downloads, and so we have also implemented it in the cabily bundle.
CABIFY
Cabify provides private users and companies transit options that best suit their needs. They started this Spanish company in 2011 in Madrid. Cabify now operates in more than a hundred cities. It spreads across Latin America, Spain, and Portugal.
Cabify is one of the few on-demand transportation services operating on a profit. It has received total funding of $407 million to date.
Cabify's growth is also directly linked to the various unique features which come with its app. The primary highlighting feature is the Ride Preferences feature. It allows users to select rides based on their preferences. They can choose based on music, air conditioning, and water.
One can increase the user base of an application by providing such rich experiences to the users. So the cabily app now comes with a similar Ride Preferences feature.
FLYWHEEL
Flywheel is another ride-hailing application that allows passengers to hire a ride. Flywheel gets into a partnership with other taxi companies to provide services to its users. They did it instead of operating with registered drivers who own cars.
Flywheel has received a funding of $34.9 million so far. It is currently functioning across many states in the US. It has introduced the option of flagging down a cab. It allows users to flag down any passing cab from a nearby street corner. They can then pay for the ride using the "pay by flywheel" option. The app, by default, comes with the "Pay by flywheel" option.
We have integrated the same feature into the Uber clone app. It comes with this feature, which lets users flag down a cab.
EASY TAXI
Easy Taxi is one of the larger mobile companies operating in Latin America. It provides users with an option to book a taxi and track its location in real-time. They have started Easy Taxi in 2011 in Brazil. It is currently functioning in more than 420 cities across 30 countries.
Few critical elements of the Easy Taxi application are GPS tracking, Maps, and Routes. Using this, passengers can know the estimated arrival time of the drivers to reach their pick-up location. Moreover, the GPS and Route feature will also enable the drivers to follow the best route. It will show the route with minimum congestion to save time and resources.
We saw the multiple benefits coming from this feature. So we have updated our Uber clone application with GPS tracking feature. It will provide the best technology available in the market to its consumers.
Even though uber is a billion-dollar company many companies managed to succeed in the last five years. You can launch a uber-like application today with our turn-key script. Drop your details here.