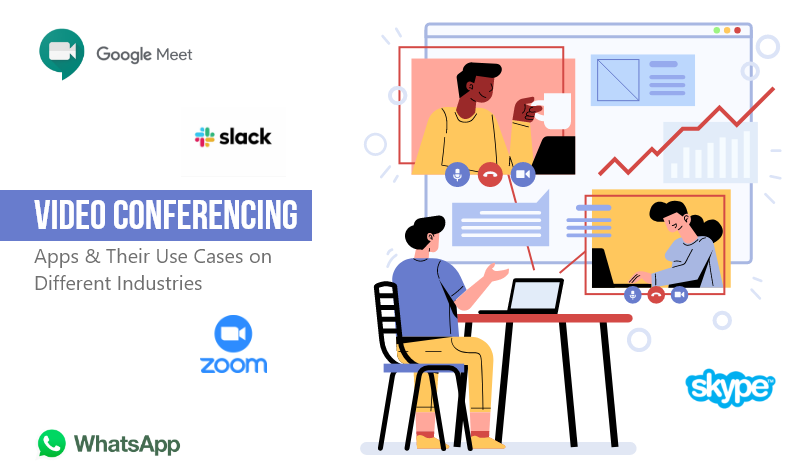 Video Conferencing Apps & Their Use Cases on Different Industries
Zoom For Education/Online Learning
Zoom has brought teachers and students closer by revolutionizing online learning. Even in the virtual world, teachers can begin the class by marking attendance like a normal day. In Zoom, a single-screen accommodates all the students and teachers at the same time. However, it does not reduce the authority of the teacher over the class.
From muting students to sharing assignments, they are in charge of the class. If they do not permit, students cannot share their screens with others. Zoom also gives you access to the blackboard. Its LMS integration gives you all the tools that you use in a real classroom.
Zoom's breakout rooms make assigning projects and monitoring students easy. All you need to do is divide the students into small groups. Let them share files and cooperate while you keep track of real-time.
Apart from this, you get features like attention indicators, Q/A tools, and more. All these help build team spirit and eliminate the distance.
Keeping security in mind Zoom allows teachers to use password-protected classrooms. You lock entrance once the class starts. You also get to record the sessions and share them with the students. This app's compatibility with multiple devices has made it even more appealing.
Are You looking to launch a video conferencing platform like zoom? We offer a ready-made version of an app like Zoom. We have specially created it for Education/Online Learning for you.
Zoom For Telehealth/Virtual Care
Stay strong at the time of adversity by keeping in touch with your doctors. It does not matter if you cannot step out of your house. Zoom will bring your doctor to you.
Doctors are now consulting online, remotely diagnosing patients, and providing routine check-ups. No more do you have to visit a hospital if the situation is not dire.
Zoom has also come in handy in preventing crowding at hospitals. Doctors are now screening symptomatic patients before allowing them in.
Apart from this, psychologists can also provide mass consultation using Zoom. Thanks to this app, doctors can track equipment shortage and supply of inventories. They can also coordinate with lab technicians and other specialists remotely.
Those using Zoom are all praises about its features. One of its specialties is offering high-quality videos, even in low-bandwidth areas. It has brought doctors and patients even closer. Those staying in rural areas now can get medical help at the touch of a button. Undoubtedly, Zoom has helped reduce the cost of traveling and enhance productivity.
Zoplay offers a ready-made version of "Zoom specialized for Telehealth/Virtual Care." It is a robust application that comes on both iOS and Android platforms.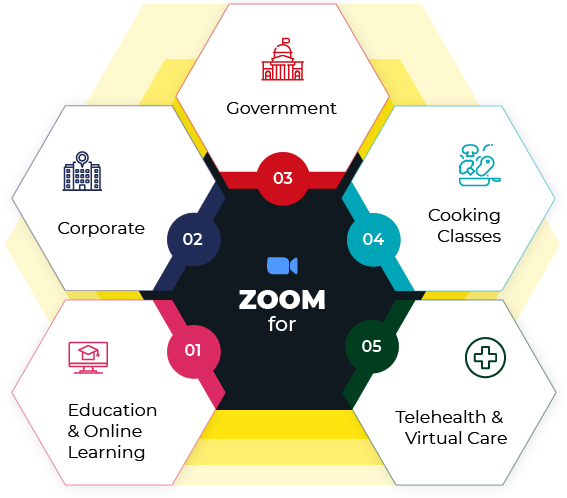 Zoom For Cooking Classes
It's time to enjoy the art of cooking and relieve yourself of stress. Even by staying indoors, you can explore and advance your culinary skills. The virtual cooking classes are here to assist you as you don the chef's hat. Zoom gives you easy access to classes organized by experts.
By following the step-by-step recipes, you can even master the most difficult delicacies. That, too, in the comfort of your kitchen by saving traveling time and money.
Zoom offers you features like real-time visual interaction. It enables participants to share opinions and experiment with food like never before.
These online classes boost the morale of the novice and inspire them to hone their skills. You learn more about creativity, cleanliness, preparation, and presentation through the workshops. Also, you understand the key elements, get feedback, and tips from professionals.
Zoom helps the aspiring cooks schedule multiple classes and rustle up many new dishes in a day. You can access these classes from any location with Zoom's high-quality audio and video.
Zoplay aids you by its turn-key version of the Zoom-like app for Cooking Classes. Get in touch with us to know more about this app.
Zoom For Corporates
With Covid-19 restricting people's movements, boardroom meetings have become a strict no.
Zoom gives corporates what they need the most: A seamless video environment. It offers a platform to hold meetings, webinars, video meetings, and chat. That, too, from a wide range of devices – mobiles, desktops, tablets, conference room systems, and more.
Thanks to Zoom Rooms and Conference Room Connectors, video conferences are even better. Thus, coordination is no more a herculean task.
Zoom, you get to create three types of meetings. They are one-to-one, screen sharing, and group video conference. You can integrate various apps as well as customize your workflow. Apart from this, you get HD-quality video and audio.
Zoom ensures that the virtual world does not restrict your work. Hence, it enables you to share high-quality videos while on calls and record meetings. In short, your life becomes much more organized and easier.
What made Zoom the most popular platform is its free version. You get to enjoy a 40-minute conference call accessible by up to 100 participants. As you upgrade to one of its three versions, you unlock other features as well.
We have a ready-made version of the Zoom-like app specially created For Corporates. Get in touch with us to know more about this app.
Zoom For Government
Not only the corporates, but Zoom also offers several facilities to government agencies. Zoom has the FedRAMP Moderate Authorization making it suitable for government use. It gives video communication solutions that are secure and easy to manage and scale.
Zoom's high-quality video in low-bandwidth environments has made it even more reliable. It allows officials to reduce costs and enhance collaboration between teams. This platform also enables the departments to use their present resources optimally.
As a result, their efficiency increases, and so does their quality of services.
This app features Zoom Video Webinar, Zoom Meetings and Chat, and Zoom Phone. With Zoom Phone, federal agencies have access to a single cloud solution. They can now merge all their telephony systems into it.
Zoom gives officials access to HD video and audio for hearings, meetings, and more. Officials also have the option to save their meetings for reviewing them at a later stage.
We have a turn-key version of the Zoom clone app prepared by keeping security & scalability in mind. We have created it specifically for Government purposes. Get in touch with us to know more about this app.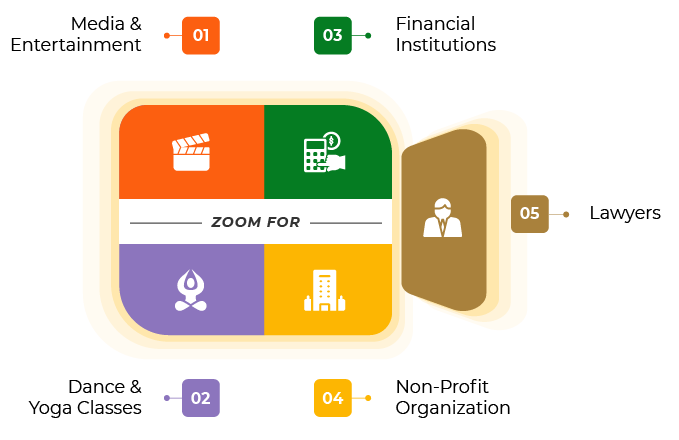 Zoom For Lawyers 
Zoom is a user-friendly and cost-effective video conference tool for lawyers. And with the recent security enhancements, it is now an even safer platform for meetings.
The lawyers need to follow the security tips. If they do it, then they are good to go. Zoom allows lawyers to protect their one-to-one or multiple-client meetings. Just set an ID and password. Apart from this, Zoom gives several powers to the host of the meeting. For example, its 'join before host' option.
You can disable it to control the participants from attending the meeting. Besides, you can authenticate the meeting guests individually. However, they need to have a Zoom account for this.
After all your expected guests have joined the meeting, you can 'lock the meeting.' Hence, no disturbance from unwanted guests will be there. This feature adds an extra level of security to your meetings.
You also get access to chat, annotation, whiteboard, and screen sharing functions. Adjust your settings accordingly to up the security level.
By keeping all these things in mind, we have crafted a perfect version of the zoom-like app for Lawyers. Get in touch with us to know more about this app.
Zoom For Dance/Yoga Classes 
Covid-19 changed several equations of life. Never did people think they will have to remain confined to their houses 24*7. However, as the pandemic made it a reality, people found new ways to bring life on track. And the several apps are handholding them to success. Initially, their use remained confined to education or office purposes. But with time, people from other professions too started using these apps.
If you are a yoga or dance teacher, you can now recreate your studio environment through Zoom. The app has several in-store features that offer a disturbance-free class. You can keep 'Zoom Bombers' away by setting up a password.
Warming up is an important part of the routine. As people join the class, you can ditch the noise by muting them. To ensure everyone is on the same page, you can share music and check their performance in real-time. You can also enable the waiting room, disable screen sharing for guests, and lock the meeting.
Zoom gives you the freedom to integrate with any other app. Those who have missed the session can now access the recorded video of the class anytime.
We saw a huge increase in demand for the Zoom-like app for this industry. So, we have created a Zoom clone app focussed on Dance/Yoga Classes. Please speak to us to know more details about this app.
Zoom for Media/Entertainment 
The media industry has come to a halt with the introduction of the social distancing norms.
As the industry is facing difficult times, it can use Zoom to its advantage. There is a lot to explore about Zoom. It has already proven its capacity to connect people and bring them together. Now, the industry can use this opportunity to build its content and run the show.
With Zoom, you can remotely work on your screenplays. You can also contact sponsors to raise funds for your future project.
Besides, Zoom offers a platform for the growth of creative minds. Explore its features and use them to the best of your advantage. By organizing the Zoom writers' room, you get to work on different ideas and shape your content.
Many popular production houses are using Zoom for a smooth flow of work. Many studios are also relying on Zoom's background to promote their latest work.
Get the turn-key Zoom clone app specially designed for Media & Entertainment. Drop your details to get demo details.
Zoom for Financial Institutions 
Zoom has opened new modes of communication with Covid-19, restricting the existing ones. Thanks to its cloud-based solutions, financial institutions can easily bring global teams together. Its high-quality video and audio solutions offer superior customer service. And its USP is Easy-to-use features.
Covid-19 brought life to a halt, but apps like Zoom help institutions resume functions. It also helped them boost their productivity.
Thanks to Zoom, virtual meetings, and compliance training has become a way of life. It has reduced travel not only cost but also paved the way for optimized use of resources. Besides, communicating with the customers in real-time is no more a concern.
Zoom also kept safety in mind. Its features keep your information safe as you exchange them with your client. All you need to do is secure your account with a password and authenticate the users. Apart from this, you have the power to remove a user or block one.
Share your files, screen, and all other data in Zoom's secure environment. Its 256-bit AES encryption and role-based access control give multi-layer security.
Get the turn-key Zoom clone app, which we have designed for Financial Institutions. Drop your details to get demo details.
Zoom for Non-Profit Organizations 
Zoom has evolved as a crucial tool of communication for non-profit organizations. Its ability to work in a low-bandwidth connection has made it even more popular. Not to forget, it is easy-to-use and reliable. It has given the non-profit organizations the much-needed relief. Now, whether people are in villages or abroad, contacting them is devoid of any network issues.
You can join a meeting or host a meeting with a single click with Zoom. And the best part is you do not need to open an account to avail of these benefits. With its free account, you get to hold meetings for 40 minutes with a maximum of 100 attendees. Sharing documents, files, and screens while working on projects has never been easy.
Apart from this, NGOs can use Zoom for a host of other activities. Like, collaborating with teams, training staff, and conducting board meetings. You can also raise funds and brief your donors through Zoom.
Zoom app helps NGOs to live stream events in a secure environment. Its HD audio and video solutions give NGOs a perfect chance to expand their services.
Get the turn-key Zoom clone app, which we have designed for Non-Profit Organizations. Drop your details to get demo details.