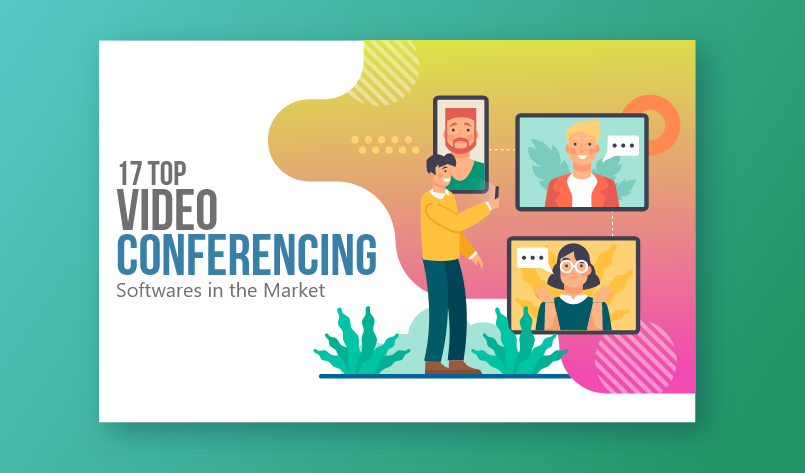 17 Top Video Conferencing Softwares in the Market
As you leap the boardroom meetings to web meetings, let Zoom handhold you to success. You get to share high-quality videos and audios without facing any technical glitch.
Want to share your screen or text messages in real-time? Zoom has you covered. It also allows whiteboard collaborations on Android tablets in real-time. What attracts customers most is its easy-to-use interface. Install the free app and get going by clicking on the 'New Meeting.'
Zoom allows 100 people to join a particular video session. It is compatible with any Android device, Windows, Zoom Rooms, and Mac, among others. Attend video meetings from anywhere and collaborate on the go.
You also have access to unlimited messaging. Moreover, managing phone calls has never been easier.
Are you looking to launch a Video Conferencing Software like zoom? Get our Zoom clone application and launch an app like Zoom in your brand name.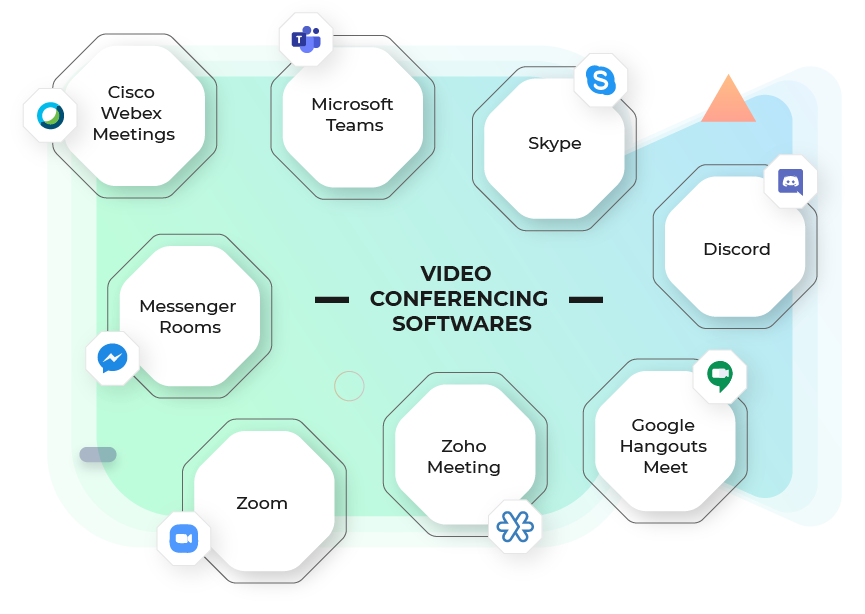 Cisco Webex Meetings
The pandemic could only restrict movement, and it had no control over creativity. The super-enthusiasts found a new way to work using the Cisco Webex Meetings. Highly-secure, and reliable, Cisco Webex Meetings helps you collaborate without any compromises.
Join this platform for the smooth sharing of ideas from anywhere at any time. You get solutions for video conferencing, online event management, cloud calling, and more.
Some of its features include:
Joining any meeting, training session, or event.
Hands-free voice commands with Google Home Hub and Google Assistant
Customizable virtual backgrounds and video layouts
Sharing of the screen
Scheduling of playback recordings or meetings directly from the app
Direct and seamless joining from a customizable widget or calendar
Microsoft Teams has distinct features to keep you connected for everything. It can be work, family, studies, or any team meetings. Considered as the safest hub for teamwork, it offers smooth and flawless communication.
You get everything for your team. It includes threaded conversation to video conferencing, meetings, content collaboration, and calling. With the Microsoft 365 applications, you build and integrate apps for your business.
On the personal front, you get to make plans, share your location, and coordinate events for your dear ones. Considering the increasing need for online classes, Microsoft Team has arranged virtual classrooms.
Teachers get to connect with students face-to-face, apart from setting up remote lunches. The highlight is that schools can register for free.
Skype offers video and voice calls between desktops, mobiles, smartwatches, and the like. You get instant messaging services as well. While audio is crystal clear, video is of HD quality.
With the outbreak of COVID, millions of people turned to Skype for their work. In March 2020, around 40 million people used it regularly.
Its features include:
Funny reactions to messages
Photos or presentation sharing while on a call
Calling offline people, at affordable international rates
Privatizing conversations with end-to-end encryption
Holding interview anytime, anywhere
Location sharing
Using Cortana for useful information or smart replies
Real-time translation while sending instant messages, or attending video and voice calls.
Live subtitles
Recording of calls
Google Meet or Google Hangout Meet primarily adheres to your professional requirements. A secured video conferencing platform, Meet connects you with your remote colleagues. It also enables you to filter out noises during video meetings.
You can now join Meet from Gmail on your mobile. But, you need a paid G Suite account to hold the Google Meet session.
The membership tiers are:
G Suite Basic: Costs $6 per user a month. 25 people can interact and share videos at the same time
G Suite Business: A monthly subscription costs $12 per user. Fifty people can join a call at the same time.
G Suite Enterprise: A monthly subscription costs $25 per user. You can meet and share content with 100 people at the same time.
Zoho Meeting is an online Video Conferencing platform providing webinar solutions. With the world embracing remote work, Zoho Meeting helps you to stay connected on the go.
Zoho Meeting platform adheres to internationally-accepted privacy and security standards. It makes it one of the safest platforms for conducting your business. Up to 100 people can join an online Zoho meeting.
Some of its key features are:
Continuation of meetings for unlimited hours
Schedule, edit, or cancel meetings. You can also sign in to view them
Automatic connection to audio through the internet
Invite participants by sharing the meeting key or the link
Collaborate between chats, audio, and video during meetings
Webinar attendants get listen-and-view-only-mode
Participate in live polls and raise questions while attending webinars
Do not let the pandemic spoil your plans. Instead, hang out with your pals on Messenger Rooms using this Video Conferencing Software. What makes it more exciting is that you do not need an account to join the video chat room.
Share the link and let people be a part of the room. Also, there is no time limit. Besides, you are the boss of the room that you have created. You can remove anyone you want. The messenger room provides several other facilities.
A few of them are:
You can lock or unlock messenger rooms anytime once calls start.
The person you have blocked on Messenger or Facebook cannot be a part of the room.
If you block the calls or texts of a person on Messenger, you will get notifications when you join a room, and he is a part of it.
Discord is a super cool platform to hang out with your friends. All you have to do is create a home for them and then begins the fun over voice, video, and text chats. Its secure and reliable low-latency video and voice connection makes you feel a part of the same room.
Here, you get to control the members of your home. Joining is strictly on an invitation basis. Discord provides voice channels, which makes connecting with friends easy. Grab a seat on the channel in your free time. Those seeing you can drop by without having to make a call.
You can share any image as your custom emoji. With its moderation tools, you can create music fan or cooking clubs spread across the world.
UberConference has revolutionized audio conferencing. No more do you have to dial PIN codes and numbers. Web and smartphone-friendly, it is super easy to schedule and run calls. Select the contacts and the meeting time.
Its other amazing features are:
Voice intelligence – Allows you to automate tasks and transcribe meetings.
HD video meetings – Be in the same room with the people you want.
Custom Hold Music – Select music that best describes your business.
Free conference calls – No restriction on the number of calls.
Screen sharing – Add visual elements in real-time.
Free call recording – Save the audio in MP3 format for free.
International calls – Join from over 50 countries for free
Analytics – Understand how your business communications are faring.
Add callers – Add callers mid-call without missing out on anything.
Integration – Integrate with other tools like Outlook, Evernote, and Twitter.
A collaboration hub, replace e-Mails with Slack, and experience seamless teamwork. It makes online collaboration as efficient as it would be in-person through channels. Now, members can share updates and always be in the loop.
Its four key features are:
Organized conversations
Create separate channels for projects, teams, and share messages and files. You have the option of privatizing channels as well as using shared channels.
Traceable history
Track down your teams' conversations for relevant files, messages, and more. This feature ensures transparency in communication.
Connect with tools
Add over 2,200 ready-to-use apps to Slack and connect with tools you find easy to use.
Calls
Make a voice or video calls to your team members and share your screen. You can also draw on the screen while sharing it.
Irrespective of your business type, collaborate, and work from anywhere using GoToMeeting. You can now use GoToMeeting on your mobile also. Sync your calendar and join meetings with a single tap. A few of its features:
Personal meeting room
Unlimited recording
Clear audio and HD video
Active directory connector
Conversion of video slides to shareable PDFs
Drawing on screens real-time while sharing them
Apart from this, it has introduced four new features:
Commuter mode: Save up to 90 percent of data when you attend meetings on the go
Room launcher: Book GoToRoom and attend meetings from your mobile app
Voice commands: Ask Siri to make you join your online meeting.
Cloud recording: You do not have to take notes. They are getting recorded.
With remote communication becoming the new normal, AnyMeeting helps you scale new heights. Reliable and stress-free, conduct video conferences, and webinars on both desktops and mobiles.
AnyMeeting offers HD-quality audio and video, artificial intelligence capabilities, and interactive collaboration tools.
All these make communications super-engaging, smart, and fast. With AnyMeeting Webinars, use videos, and audios to tell stories about your products.
Engage with audiences, and invoke trust through Q/A sessions, live polls, and more.
A few of its striking features are:
Restriction-free number of meetings for an unlimited period
Lock meetings and mute attendees
Meet anywhere using cellular network or WiFi
Record meetings
Personalize backgrounds and use company logo to brand meetings
Capture notes in real-time
Participants get direct control of the host's mouse and keyboard.
Hold webinars, courses, conferences, concerts, and Q/A sessions with Crowdcast. Designed for the creators, you get to connect with your community by joining live events. It is quick and straightforward. Thus, you can get started in no time.
Crowdcast has an easy setup and does not require any downloads. Through its HD streaming, you invite attendees and broadcast them to social platforms.
Crowdcast also gives you access to advanced analytics for measuring your performance. Besides, you get to connect with more than 500 tools with Zapier. Focusing on enhancing user experience, it offers multiple facilities.
A few of them are:
Built-in landing pages
Screen sharing in real-time
Full control over chats. Ban trolls, delete comments and invite people you like
Setting up of live events using single customizable URL
You can set passwords for more security.
Use TeamViewer in remote workplaces and increase your productivity. You get access to other smartphones, computers, or tablets on the go. It is an easy, fast, and secure mode of connecting and collaborating for better results.
TeamViewer is compatible with:
Windows
Max
Linux
Chrome OS
Raspberry Pi
Android
iOS
Its key features include:
Control over other devices and screen sharing
Transfer of file in both directions
HD-quality video in real-time
Crystal clear audio
TeamViewer provides the following solutions:
Remote access
Remote support
Mobile device support
Remote assistance for the Internet of Things (IoT)
Remote monitoring and patch management
Global video collaboration
Attend classrooms, webinars, and meetings with Adobe Connect. Giving you access to over 20 apps, Adobe Content fuels your teams' performance.
You get to use Adobe Illustrator, Photoshop, InDesign, Premium Pro, Spark, and more. Now available as a mobile application, you can attend meetings on the go.
Adobe Content enables you to perform the following functions:
Begin and end meetings
Manage audio conferences
Control entry of guests in meetings
Control users' role
Share content from the cloud-based library of Adobe Content
Manage playback of animations and playbacks
Share videos, PDFs, and PowerPoint presentations
View and edit notes
Participate in Q/A sessions, live polls, breakout rooms
Use custom pods to view YouTube videos, learning games, and more.
Improve your business' communication and collaboration irrespective of its size and industry.
GlobalMeet has in store cloud-based interactive events, conferencing solutions, and phone systems. They help you organize meetings anywhere, anytime.
The GlobalMeet app is all about ease of use and security. To maintain this, GlobalMeet provides a lot of facilities.
A few of them are:
Join meetings easily and quickly through calendar links, and e-Mails, among other options.
Customizable audio controls. It benefits users who are attending meetings remotely or on the go.
Zoomable viewing mode to enable high-quality sharing of screens
Access to participant list of meetings
As hosts, manage participants. You can promote, dismiss, or mute them.
Learning was never fun and easy before. With Blackboard, students get information whenever and wherever they want. In short, it meets the students' cravings for speed and personalization.
Blackboard prioritizes engagement between teachers and students. Hence, you get to share course materials, have discussions, quizzes, chats, and more.
The advantages of using this Video Conferencing Software are:
Never miss a conversion or a class, even when you are on the go. Real-time sessions and discussions always keep you connected with your peers and instructors.
Access your works from the cloud and take authentic assessments.
Blackboard sends you reminders and notifications for your tests, quizzes, or assignments. Be active and top the class.
Get in touch with us to know why we are the best in offering Video Conferencing Software. Our Zoom clone software comes with Streaming, Recording, and Chat features. Get in touch with us to know more.