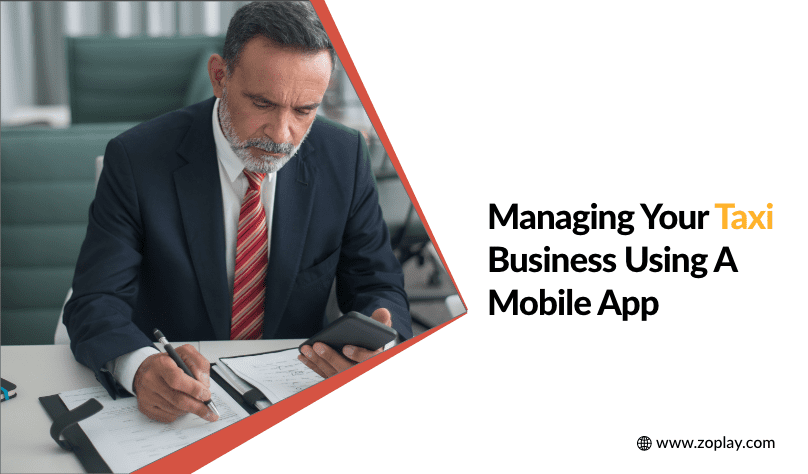 Managing Your Taxi Business Using A Mobile App
Managing Your Taxi Business From A Single Mobile Software Application
People waving down taxis was a common sight on urban streets. Commuters had the choice of hiring a cab over a phone call also, but waving down one was the quickest way to begin the journey. While there are taxis that operate independently, the majority of them affiliate themselves with a company. The latter is better as it helps drivers find more customers.
For this network to thrive, administrators in taxi companies must manage it strategically.
Overseeing a taxi business involves extensive coordination. There's relaying of messages from passengers to drivers, assignment of cabs, and more. Streamlining this process is key to a successful taxi business. And a smartphone app can do that effortlessly. In this article, we talk about the downsides of traditional taxi management. Then, we discuss why a taxi app is the best solution for the job. Let's get started.
Challenges of managing taxi services in traditional ways
Before the advent of taxi apps, it was a cumbersome task to dispatch taxis to correct locations on time. Taxi companies needed to employ several employees to attend booking calls and pass on the message to drivers. This process was not only slow, but it was also expensive.
Taxi smartphone software solutions completely transformed the way cab agencies operate. Even then, many companies continue to rely on traditional methods of managing their services. Here are some of the challenges of working that way:
Locating taxis – Without an app, the only way to find where your taxis are at any given point in time is to call your drivers. And many times, verbal communication isn't sufficient to know the pinpoint location of your fleet.
Retaining customers – Keeping track of your customers and retaining them is difficult with traditional taxi service management methods. Especially when it comes to offering incentives
Fierce competition – Booking taxis via smartphone applications is highly convenient. And that is most popular today. Offering customers, a choice between using an app and hiring taxis offline, they almost choose apps without a doubt.
Using a smartphone app for managing taxi business
Taxi smartphone software brings all taxi management activities into a single location. Whether you need to manage drivers, bookings, customers, or anything else, the software is a centralized hub for it all. Let's go over how taxi apps are advantageous for your taxi business in detail.
1. Onboard new drivers
Recruiting drivers for your taxi business is easy with a taxi smartphone application. They don't have to fill up extensive paperwork and wait for a long time.
You can request potential drivers to upload their information on your app to proceed to become partner drivers. You can ask for details such as a valid driver's license, proof of residency, and a recent photograph.
On receiving them, you can verify the details at your convenience and onboard them as new drivers in your taxi business.
2. Accept taxi bookings round the clock
With a taxi software solution, there's no need for manually processing bookings and passing on messages. The app automates all of them. Customers can book a cab of their preference. In doing so, the nearest drivers around their pick-up locations will receive alerts. Drivers will have a choice to accept or reject the booking requests.
3. Set ride pricing
Through the software, you can specify your taxi rates. Besides setting the price for how much money it will cost for every kilometer/mile, you can also configure commission fees and surge pricing. The latter is useful when there are a lot of traffic congestions, or when it is raining.
The app automatically calculates and charges customers the exact fare. Additional app features like tipping the driver help boost business. Once customers make a payment, taxi software apps can e-invoices to customers via emails and SMSes.
4. View earning reports
Over time, your taxi business collects a lot of raw data. They hold many insights that aid in optimizing and improving your taxi services. And smartphone apps do this effortlessly. They log every booking and earning that occurs through the software.
Apps consolidate this information and display them in an easy-to-understand manner. Through the app's dashboard, you can quickly view how much your business has earned over time. Using filters, you can view earnings between specific date ranges, by drivers, and more.
5. Address customer queries
Taxi software allows you to respond to any queries customers may have quickly. You can write up a short FAQ and put it on display in the app. If that doesn't help customers, they can choose to contact you via in-app chat. Through that, you can understand what they would like to know or need help with.
6. Gather feedback
Handing out feedback forms is a thing of the past. An app automatically prompts customers to leave feedback for the driver and the service as soon as they complete a trip. The customer reviews help learn what passengers like and don't like about your service.
Conclusion
Are you still offering and managing taxi services using traditional methods? By launching and managing your business through a taxi smartphone app, you can raise the business potential of your taxi company. Efficiently manage all your taxi operations from an Uber-like software solution.
Cabily is a cutting-edge Uber clone app that lets you customize and re-brand the app into your own unique software. It gives you all the features that the original Uber app does. Are you interested to know more? Then give us a call today.