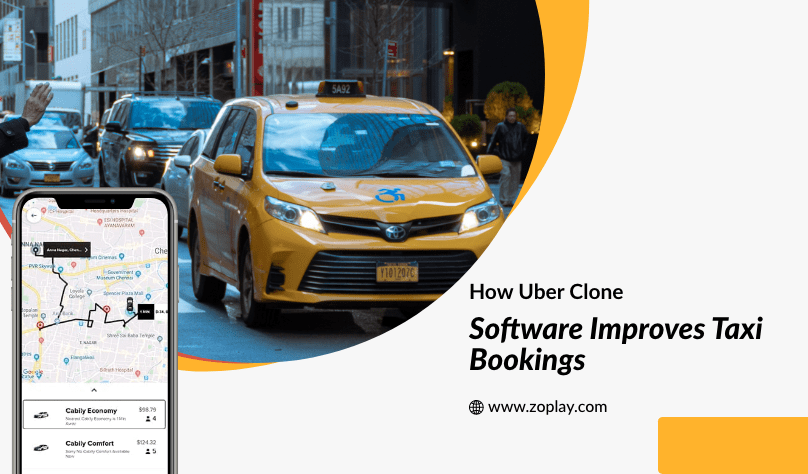 How Uber Clone Software Improves Taxi Bookings
Get More Taxi Bookings With An Uber Clone App
Counting on phone calls to get taxi booking requests is a thing of the past. So is letting your drivers wander around in the city looking for passengers who will board them.
Those tactics make boosting your taxi bookings a challenge, let alone finding enough customers. If you're looking to gain more booking requests, then launching an Uber clone app is the way to go.
The taxi landscape has gone through a significant transformation since the advent of smartphone apps. Like how services like plumbing and shopping have dedicated apps, ride-hailing services also have mobile software. And apps are what present customers prefer over lengthy interactions with cab providers.
There are two main ways of developing a taxi app. You can build one from scratch or customize an Uber clone app. The latter is more economical and faster. In this article, we talk about what an Uber clone app is and how it aids in improving taxi bookings. Let's begin.
Uber clone app: What is it, and what are its advantages?
An Uber clone app is what it means. It is a taxi software solution that contains the same features and user interface as that of Uber. As the app model comes prebuilt with world-class modules and navigation, you won't need to worry about sculpting the software from scratch.
All you need to do is customize it according to your taste. That includes changing the theme of the clone app and rebranding the software.
Purchasing and tweaking an Uber clone app is the most cost-effective and quickest way to deploy a taxi app. Adding new and modifying existing features in the software is simple since the source code is fully customizable. Now let's go over how this application helps improve taxi bookings.
How Uber clone software improves taxi bookings
Uber is a ubiquitous name in the taxi segment. Uber is the first thought that strikes people when they want to commute from one place to another. It is widely popular, and many reasons support it.
Using an Uber clone app, you also stand a good chance of becoming a big taxi name in the industry. Enduringly, you can also gain a large number of passengers.
Here's how an Uber clone app helps
1. Convenience
To start with, it is convenient. An Uber clone app allows customers to hire a cab within seconds effortlessly. All it requires is a few swipes and taps.
On downloading and installing the app, customers can set accurate pickup and drop locations and complete the trip. There's no need for any communication with the driver or the taxi company throughout this process. This unparalleled convenience increases taxi bookings.
2. Wider audience reach
The chances of customers knowing about a taxi company that does not or has a shoddy online presence is rare. It dampens taxi booking rates. That is not the case with cab organizations that offer their services via a smartphone app.
By merely being present on app stores, customers will stumble upon the software and try it out. Following a great experience, users will become loyal to the taxi app. You can further increase the reach of your app with your target audience by promoting your software on app stores.
3. Multiple modes of payments
Restricting the type of payments, you accept for cab rides to only cash hampers booking prospects. Today, there are many other payment options customers increasingly prefer to use. Besides cash, payment modes include debit/credit cards and mobile wallets.
Uber clone apps offer customers multiple payment gateways. As the software seamlessly accepts many types of payments, the frequency of bookings increases.
4. Positive feedback
Reputation precedes the success of every business. The better it is, the more credible a company appears. That directly boosts the number of customers companies with great reputations acquire.
By launching an Uber clone app, app stores will list your software on their platforms. And over there, users will have the freedom to express their opinion on what they think about your app.
By providing exceptional services via the app, your customers will leave positive feedback about your app. And that encourages potential customers to download, install and use your taxi software.
5. Flexibility
Customers like to have choices when they book services. And an Uber clone app provides them with plenty of booking options. The software allows passengers to book different vehicle types, including a hatchback, SUV, and luxury vehicle.
The type of vehicle also depends on the number of passengers that will be boarding the taxi. An excess of 3 passengers will need to book an SUV. Besides this flexibility, customers can schedule cab rides for a later time.
By booking a cab for another time, customers needn't worry about the possibilities of finding a cab at a later time. This feature is useful when passengers need a taxi at late hours.
Summing up
Continuing to operate cab services without an app in these times is self-defeating. Leaders in the taxi segment like Uber and Lyft have completely transformed it. Keeping up with the latest trends is crucial. Not only for winning the competition but also for acquiring more customers.
Investing in an Uber clone app will win you more taxi bookings in no time. We recommend purchasing Cabily. It is loaded with the latest features, is secure, and is fully customizable. Contact us to know more about Cabily.