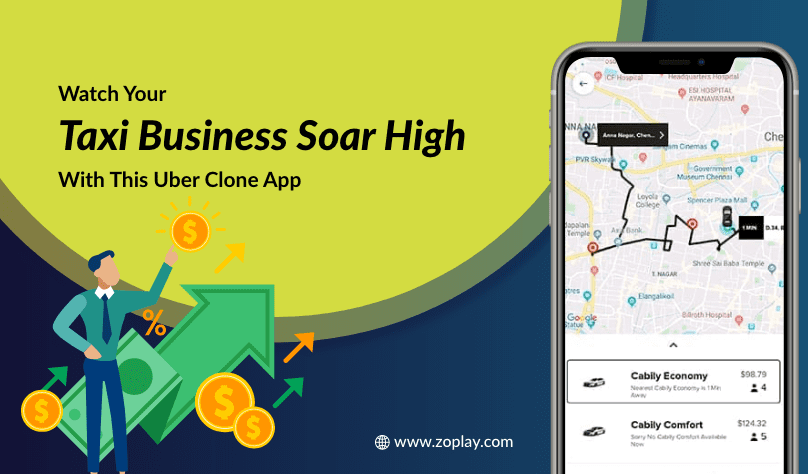 Watch Your Taxi Business Soar High With This Uber Clone App
Watch Your Taxi Business Soar High With This Uber Clone App
Clone apps are gaining a lot of momentum in the taxi industry, especially Uber clone apps. A great many taxi businesses are opting to use them for launching their online taxi services. If you're looking to deploy a stellar app in the market, then you're well off purchasing an Uber clone app too. But like many offline cab services making the transition, you might also be overwhelmed with all the clone app choices in the market.
The increasing demand for Uber clone apps has led to the widespread growth of application development companies that offer them. And each company offers a different version of the Uber clone app. Unsurprisingly, a large proportion of them is bug-ridden, unstable, and unreliable. On the bright side, there is one Uber clone app that will not disappoint. And that is called Cabily.
In this article, we discuss how Cabily helps your taxi business soar high. Let's get started.
Why choose an Uber clone app?
More and more cab businesses are choosing to launch their taxi apps by purchasing an Uber clone app. There are many reasons for this.
Uber clone apps are more or less an emulation of the actual Uber software. That means clone apps have all the features and usability of the original one. That said, it is crucial to note that not all clone apps are the same.
When you purchase an Uber clone app, you get a pre-configured software application. In fact, you can deploy it just as is. However, you can also customize it according to how you want it to look and feel. That way, your app will be unique.
A significant advantage of choosing an Uber clone app is that you save a lot of time and money. It could take as little as two days to launch your app. That's how easy it is to deploy a taxi app in the market.
Cabily – why it's the best Uber clone app?
Cabily is the product of laser-precision software development. It performs on par with leading ride-hailing apps in the market. Cabily is highly similar to the original Uber software. By that, we mean its ease of usability, visuals of the interface, and features are identical to the original app.
While Cabily packs a lot of power under the hood, you get plenty of support with the app. In addition to the regular updates and incredible security systems, you will almost instantly get the answers to any app-related queries. That said, let's take a look at how Cabily helps take your taxi business to new heights.
How Cabily boosts your taxi business prospects?
Easy onboarding
The first screen a taxi app's user sees is the sign-up page. Forms that require customers to fill up extensive details deter them from finishing the step. That's not the case with Cabily. It provides multiple sign-up options such as email and social media logins.
Simple interface
Cabily has a user-friendly interface. When a user signs in to the app, a user can effortlessly navigate through the app without much thought. All of its features are easily accessible, and the app itself functions smoothly.
COVID safety
In the wake of the pandemic, Cabily contains safety measures to keep passengers safe from COVID-19. The app shows disclaimers that wearing masks is mandatory before boarding the cab, shows driver temperature, and more. These measures encourage passengers to board your taxi confidently.
Scheduled bookings
Most taxi apps allow users to only book cabs instantly. On the flip side, Cabily lets customers schedule cab rides at a later date and time. It helps avoid facing the uncertainty of whether a taxi will be available at a specific time or not.
Multiple payment options
Restricting your payments to only cash can be challenging. Today, there are various payment methods available. Cabily gives your customers the freedom to pay in any mode they want. That includes cash, credit/debit card, and mobile wallet payments.
GPS tracking
Just like world-class taxi apps in the market, Cabily has a robust GPS tracking feature. It displays the location of drivers to customers and vice versa in real-time. This feature helps customers know the ETA of taxi arrivals and the time at which they will reach their destinations.
Emergency buttons
To enhance the safety of passengers commuting via your taxis, Cabily offers an emergency/SOS button. During any adverse circumstance, passengers can press the button to seek immediate emergency assistance.
Tip system
Cabily has a feature that makes it easy for customers to tip your taxi drivers. The app allows you to specify tips of a particular increment value. After every trip, the software asks your customers if they want to tip their driver.
Feedback system
Finally, Cabily has a comprehensive feedback system to gather what customers have to say about your app. Passengers can leave reviews in the form of comments and even star ratings. Analyzing the feedback will help you optimize your taxi services for higher gains.
Conclusion
Today, it is no doubt that taxi apps are a staple software for commuters. If you haven't launched an app yet, then it is high time you do so. By purchasing Cabily, you get a wealth of features and room for customization. All of which helps you significantly boost the prospects of your taxi business. Get in touch with us to know more about Cabily.