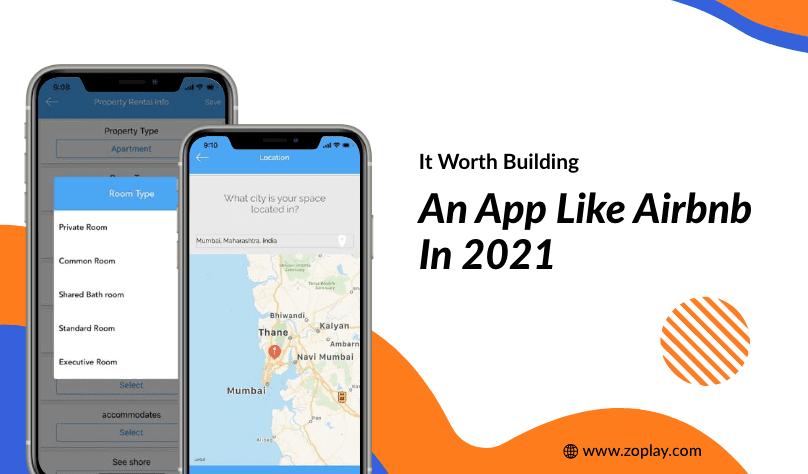 Is It Worth Building An App Like Airbnb in 2021?
Is It Worth Building An App Like Airbnb in 2021?
2021 is emerging as the year when the pandemic declined significantly. There is no doubt that novel coronavirus has left an indomitable imprint. While the economy is fluctuating rapidly, companies are coming up with innovative ways to cope up. Almost every industry is turning to smartphone applications for offering their service. The vacation rental segment is also doing the same.
Launching a vacation rental smartphone app can be easy, for example, using an Airbnb clone. That said, it is a considerably expensive venture. Without prior research into the current market, launching an accommodation rental app can be risky. It is not avoidable either. Because on the other hand, it will get difficult for vacation rental companies to go on without a smartphone app.
We will clear the air out for you. In this article, we explain whether it's worth building an app like Airbnb in 2021. Let's get started.
How the pandemic affected the vacation rental industry?
In 2020, the vacation rental industry came to a grinding halt. Due to the unprecedented pandemic, people refrained from traveling. That led to a steep decline in rental bookings. The losses started to add up and even drove Airbnb to downsize its workforce due to the virus outbreak.
There were many reasons why the rental segment faced a brick wall during the peak pandemic. Governments across the world had imposed lockdowns, and there were strict travel restrictions. On top of that, the fear of contracting the virus among the public was at an all-time high.
However, over time the industry made a successful comeback. Rental companies like Airbnb implemented new COVID-safety measures. And that encouraged travelers to set foot into the outdoors again.
Current prospects for vacation rental aggregators
There is a lot of scope for vacation rental aggregators in the current market. Travelers are getting vaccinated, and property hosts are adhering to COVID guidelines. As a result, the rental segment is thriving once again.
The pandemic has changed the way travelers go on vacation. Due to the work-from-home culture, many travelers opt to book rentals for not just a few days but weeks. It signifies higher revenue for rental companies.
While there is a lot of potential in the rental segment, companies that haven't launched a smartphone app fall behind the competition. Launching an app like Airbnb helps you acquire more bookings and earn higher profits.
Advantages of building an app like Airbnb in 2021
Let's briefly look at the advantages you get by building and launching an Airbnb-like app.
Seamlessly connect with customers
By launching a vacation rental smartphone app, the gap between you and your customers shrinks. With an app, travelers can look up several property listings with just a few swipes and taps. An Airbnb-like app will provide search filters, review systems, and more. But what makes it even more convenient for customers to reach you is adding a live chat feature in your app.
Gain more customer bookings
After travelers download and install your app, you can launch personalized marketing promotions. Let us say a traveler is looking for vacation rentals in New York. But the traveler doesn't book a place. Using the app, you can notify such a customer about other rental options in the area via push notifications and reminders. It improves booking rates significantly.
View traveler insights
Effective marketing strategies are the result of acquiring customer insights. In the vacation rental segment, learning patterns and trends in travel bookings helps you gain higher returns. Insights unveil what type of accommodations enjoy the most bookings, the popular destinations among travelers, and more. By knowing this information, you can focus on providing exceptional services in those areas. Consequently, you can earn a higher profit.
Better control
An Airbnb-like app will display the latest developments in your business within the mobile software itself. The software provides a comprehensive view of the total bookings, guest inquiries, and more in real-time. With a smartphone app, managing property hosts and guests is a simple task. And if you need to communicate with either of them, the live chat feature in the software helps effectively convey messages.
Gather customer feedback
In addition to gaining insights into what is working and not working in your vacation rental business, an app gives customers an avenue to enter their feedback. It allows travelers to directly express how they feel about your services and their stay experience. By analyzing customer feedback, you can improve business operations and, in turn, gather positive reviews.
How an Airbnb like app helps your vacation rental business?
An Airbnb-like app brings property hosts and travelers together in one single platform. Listing and finding properties becomes a hassle-free process for them. Parallelly, you can generate revenue from the app.
Every time a transaction occurs between a traveler and a property host, you can levy a commission fee. You can choose how much you want to charge as a commission fee. Typically it is around 3-5% of the total booking amount. Ultimately, the more bookings your app receives, the more profit you will make.
Wrapping up
So is it worth building an app like Airbnb in 2021? The answer is a resounding yes! With an Airbnb clone app, you can launch a world-class vacation rental company just like Airbnb within a few hours. If you're looking for a reliable, secure, and feature-packed Airbnb clone, then purchase Renters. It comes with exceptional support and frequent updates. Get in touch with us to know more.