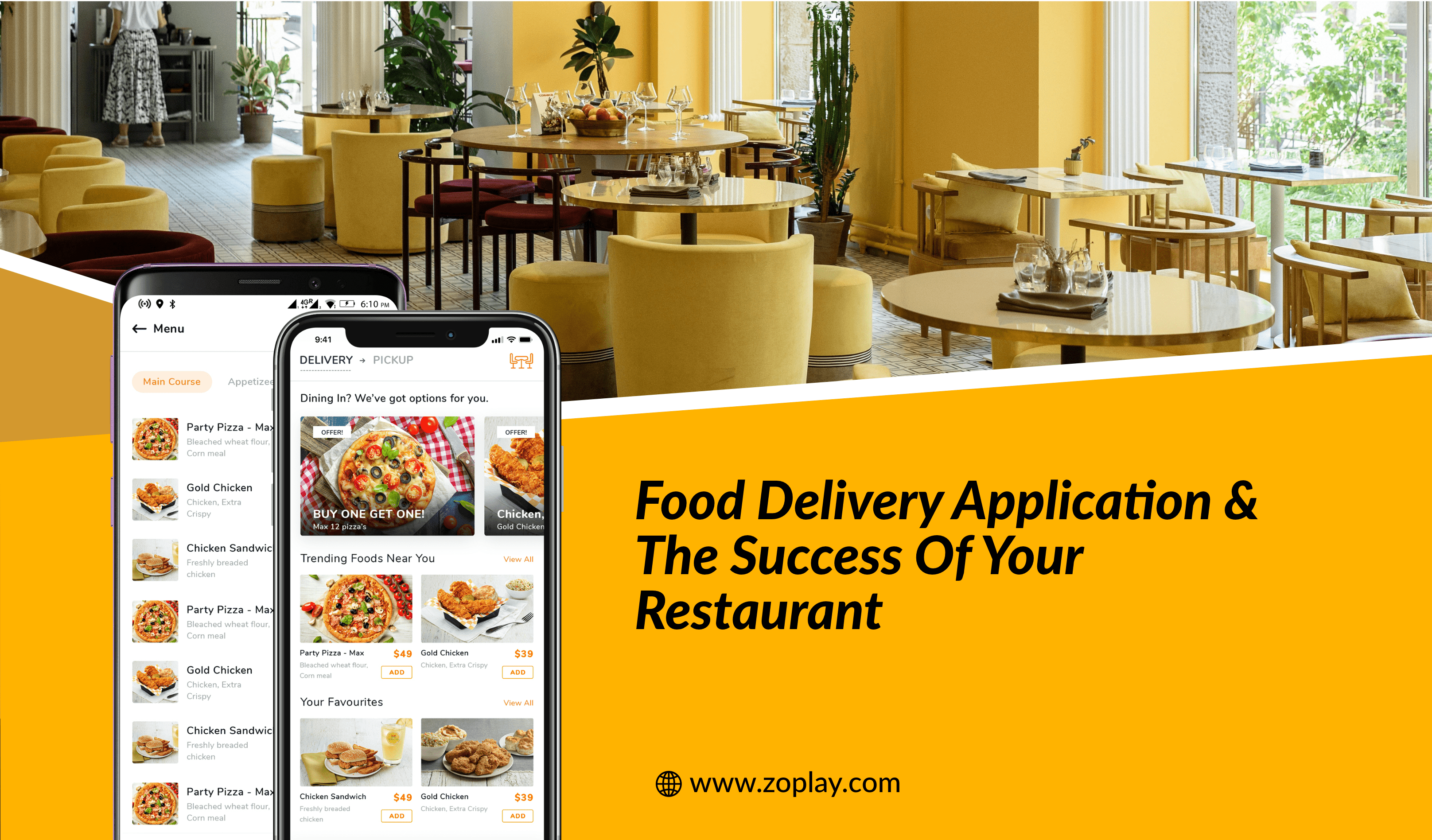 Food Delivery Application & the Success Of Your Restaurant
How The Success Of Your Restaurant Business Depends On A Food Delivery Application?
There's a smartphone app for everything. Do you need groceries? Want to purchase products? Need to book movie tickets? There's a mobile software app for all of them, even for food delivery. Ordering food via an app is extremely popular today. And it is no longer optional to launch a food delivery app for restaurants. The software has become a crucial success component in the food industry.
There are several advantages to developing and deploying a custom food delivery app in the market. They point to one ultimate goal, which is a significant boost in orders and eventually revenue. Restaurants without a food delivery app have already started to face the stress of the competition. Remaining that way for too long can result in a high chance of them going under.
In this article, we dive deep into how launching a food delivery app will transform your restaurant business. Let's get started.
The Scope of Launching a Food Delivery App
According to Statista, the online food delivery segment is expected to reach a market volume of US$ 441,622m by 2025. By investing in a food delivery app, you can earn a slice of this whopping market volume in addition to the revenue your dine-in services generate.
The number of food delivery software on app stores is rapidly increasing. A recent core factor that is accelerating the popularity of food delivery apps is the pandemic. By ordering food online, customers can safely avoid unnecessary exposure to the virus. Only professionals who did not have time to make a meal were initially the target audience of food software. Today, the general public is the target audience of food delivery apps.
Food Delivery App Features That Drive Your Restaurant Business to Success
When developing a food delivery app for your restaurant business, you must implement a few fundamental features. They make your app usable for customers. Leaders in this segment like Uber and Zomato have set the standards for how an ideal food delivery app should function. Using them as an example, here are some features that will heighten the success rate of your restaurant business.
Simple sign in

Search filters

Checkout cart

Multiple modes of payment

GPS tracking

Feedback system

Push notifications
How a Food Delivery App Boosts the Scope of Your Restaurant Business?
Food delivery apps are an indispensable element of any modern restaurant business. They help improve business prospects to a great extent. Here's how.
1. Smooth ordering experience
Food delivery apps give customers complete control of what and when they order food with just a few taps and swipes. Using the app, customers can browse through your restaurant menu, choose what food items they want to have, and complete the payment. After that, they receive an ETA of the food delivery and the live location of the delivery agent. This entire process makes ordering a hassle-free experience.
2. Seamless service during the pandemic
The pandemic has significantly impacted the behavior of the public. While some people are stepping out of their homes, many choose to stay indoors. For the latter audience, food delivery apps are a boon. Customers who want to avoid the outdoors can have their favorite meal delivered to their doorsteps. Without an app, you would be missing the revenue stream from such customers.
3. Valuable insights
Insights show you what is popular in your restaurant and what is not. They also display areas of your food delivery service that require improvement. Food delivery apps keep track of the food items customers order. Then, they consolidate the entire log and process them into comprehensive reports. By viewing the analytics, you learn what dishes are fast selling and which ones are least selling.
4. One tap payments
Food delivery apps make paying for food items as effortless as tapping a button. The software allows customers to save their payment information for faster checkout. So once they finish adding what they want to order to the cart, the next step is to tap a button. It improves the frequency of food orders, and it also boosts user experience.
5. Gain loyal customers
Turning customers into loyal ones who keep ordering from your restaurant is easy with a food delivery app. Through the mobile software, you can announce new offers, membership programs, coupons, and more. It encourages customers to order from your store repetitively rather than just once. This way, the revenue you generate will surge up.
The Most Economical Way to Launch a Food Delivery App
The traditional way to launch a food delivery app is to build it from scratch. But that incurs a lot of time, money, and resources. On the bright side, there is a more economical way to launch an app. Besides being cost-effective, it is also a much faster way to deploy a food delivery app in the market. And that is to use an Ubereats clone.
Ubereats is a widely popular leader in the food delivery segment. By investing in their clone app, you get all the features that the original mobile software has. You can customize the app to suit your business style and other preferences. By rebranding the app, you will have your very own food delivery app ready for launch.
Conclusion
Are you looking to benefit from launching a food delivery app for your restaurant? Drive your restaurant to even greater success with Dinedoo. It is a powerful Ubereats clone app loaded with the latest features. On top of that, the app is fast, secure, and fully customizable. Get in touch with us to know more about Dinedoo.