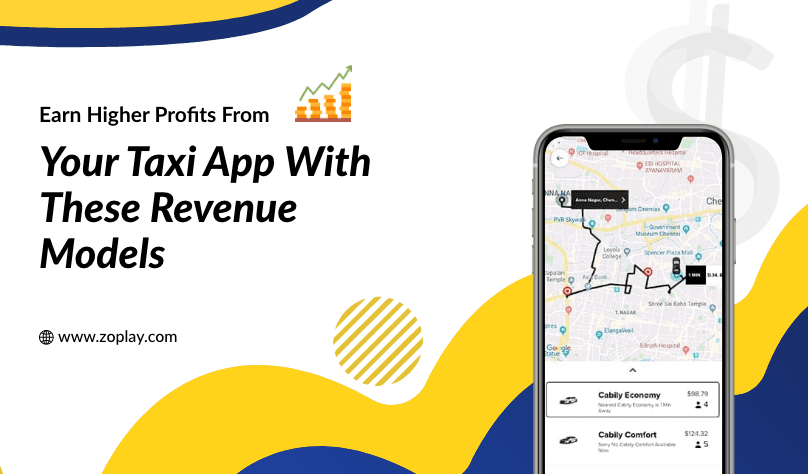 Earn Higher Profits From Your Taxi App With These Revenue Models
Earn Higher Profits From Your Taxi App With These Revenue Models
The objective of launching a taxi app is a no-brainer. It is to generate a sizable revenue and make large profits. There is no one way of doing this. A combination of many revenue-generating models results in the success of taxi apps.
When it comes to picking a revenue model, you can consider one taxi app a good example. That app is the ride-hailing mobile software by Uber. By simply mimicking its business model, you can start earning in the same way that Uber's ride-hailing app does.
App stores have numerous taxi software services. However, only a few of them earn high profits, while the rest of the apps don't perform so well. If you're looking to improve your taxi app profits, then this article is for you. We will first outline the quickest way to launch a taxi app. Then, we will discuss the revenues of top taxi companies. Finally, we will talk about the revenue models you can use in your app to earn higher profits. Let's begin.
The Quickest Way to Launch a Taxi App
If you don't have a taxi app already, then fret not. We'll tell you the quickest way of launching a stellar taxi app in the market. And that is with an Uber clone app. It is a ride-hailing mobile software that is similar to the original Uber app. That means it has identical features, interface, login options, and more. All of these components come pre-loaded into the app.
By purchasing an Uber clone app, you don't have to build each component of the app. All the features and logic of the app are pre-built and pre-configured. All you would need to do is personalize the app according to your preference. That's all it takes to launch a world-class taxi app.
The advantages of choosing an Uber clone app are that you save on time, resources, and money. The investment is much lesser compared to building an app from the ground up. And it doesn't compromise the quality of your taxi app.
Revenues of Top Taxi Companies
Before we discuss the various revenue models you can use to earn higher profits, let's glance at the revenues of a few top taxi companies.
Let's begin with Uber. Founded in 2009 as a company called UberCab, the ride-hailing service generated a whopping revenue of $14.1 billion in 2019.
Coming in second place, Lyft is another famous taxi company that significantly increased its revenue through a cab app. It emerged in June 2012 as Zimride and grew to generate $1017.1 million in revenue in 2019, its highest.
A huge reason for the remarkable growth in these two taxi companies' revenue is their app. And most importantly, the revenue models they use. Now let's take a look at what those revenue models are, after which you can implement them in your app.
Revenue Models for Your Taxi App
There are five major revenue-generating models. We will go over each of them in detail.
Commission Model
You can use this model to collect a fee from the total amount drivers earn at the end of their rides. The industry standard for commission charges ranges anywhere between 5 – 20%. Consequently, the more rides your drivers complete, the more revenue you can generate.
Dynamic Taxi Pricing
Environmental and traffic conditions for driving are seldom the same throughout. Rainfall, snowfall, and heavy traffic are some conditions in which your cabs will burn more fuel. During such circumstances, you can levy additional charges to customers using your taxi service. You can set up dynamic taxi pricing with an algorithm that automatically detects driving conditions.
Premium Subscription
Premium subscriptions are great revenue-generating models. Using this, passengers hiring your taxi service will pay a recurring fee. In return, you will need to offer them exclusive services like cabs with extra amenities, quick booking, no surcharge, etc. Uber offers a premium subscription to its customers for many benefits. It calls the subscription Uber Ride Pass.
Ride Cancellation
Customers find using taxi apps extremely convenient. With a few taps of a button, cabs arrive at their doorsteps. Just like how booking a cab is easy, it is also equally easy to cancel it. Repetitive cancellations or cancellations at the last minute when a taxi is already at their location are a waste of time and money. In those situations, you can levy a small cancellation fee to customers.
In-app Advertisements
Lastly, there's the in-app advertising revenue model. To implement this in your app, you will need to leave dedicated blank spaces for advertisements. Businesses who want to market their products and services to customers can advertise them on your app. Provided, they pay a fee for showcasing their work on your platform.
Conclusion
By using a combination of the revenue-generating schemes mentioned in this article, you can enhance your taxi company's profits. Picking the correct business model for your app is crucial. Besides that, your taxi app must be able to support all the revenue-generating models seamlessly.
At Zoplay, we offer a highly advanced Uber clone app solution that comes pre-built with a business model. It is called Cabily. The ride-hailing mobile software is secure, fast, and has a seamless, user-friendly interface. Purchase Cabily to launch a spectacular app with fantastic revenue models quickly. Get in touch with our team to learn more about the app.