12 Thriving Food Delivery Apps Around the World
Grubhub
It is one of the biggest on-demand food delivery applications operating primarily in the US market. It doubled its profit within the very first quarter of its inception. There are over 15 million diners and about 100,000 participating restaurants using Grubhub. But what makes Grubhub so popular?
There are many useful features offered by this on-demand food delivery service provider. You can make rush orders, revise your orders, and track them too. But what makes Grubhub most unique is its pre-order feature. With this feature, you can order food up to four days in advance.
This feature indeed contributes as a differentiating factor. Hence, we at Zoplay decided to develop this feature. So we have included it in our homegrown and ready-made food delivery app Dinedoo. It is helping Dinedoo to surpass all its competitors.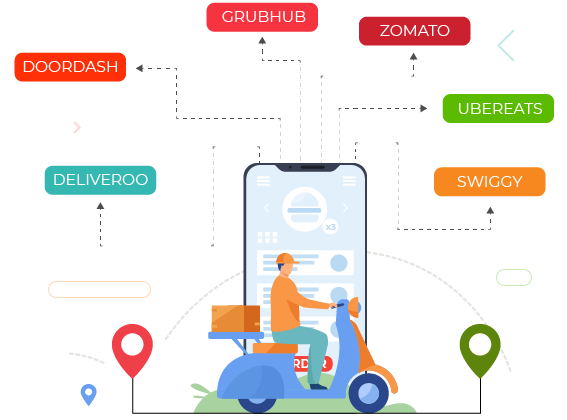 DoorDash
Doordash is an on-demand food delivery service. It has grown exponentially over the years, is DoorDash. A trio of university students started it in 2013, in Palo Alto. Since then, it has grown rapidly to serve around 600 cities in North America. The valuation of the company as of 2018 was a whopping 1.4 billion USD.
It is one company that has its heart in the right place and cares about its business fraternity. They listen to the feedback of its Dashers (the delivery people). One of their feedback was to introduce a new feature in the app called earnings breakdown. This feature will let the dashers see how much they have received as tips from customers.
Seeing how great this feature is for people who deliver food, we incorporated it into our Dinedoo app too.
Deliveroo
The founder & CEO of Deliveroo delivered food for ten months since inception. Today it is one of the biggest British online food delivery services. It is operating in over 130 cities globally.
Deliveroo has an Android & iOS app. It enlists a huge number of restaurants, just like other on-demand food delivery apps. Recently they launched a new feature called menu management. It is sure to give them an edge over their competitors. The feature allows almost real-time updates, adjustment, and revision of food items on the menu.
We, at Zoplay, believe this is a great feature and included in our Dinedoo app. It will allow restaurants to introduce new dishes. It will also allow them to remove the ones they don't make or are not popular anymore.
Zomato
India's very own Zomato was initially called Foodiebay. They started it in 2008. The founders decided to rename it in 2010, and Zomato was born. It has grown rapidly over the years. So much so that it is currently operating in 10,000 cities in over 36 countries around the world.
It is common knowledge that Zomato has its delivery fleet. You will see Zomato riders zooming through the streets. However, to rein in the expenses, Zomato also introduced a self-pickup option. It allows diners to order and pick up their food when its ready, thus saving on delivery charges.
It is a good feature to have in an on-demand food delivery app because it allows flexibility to users. Hence, we have included it in our Dinedoo app too.
UberEats
There are hardly any people who haven't heard of UberEats. It is one of the most popular on-demand food delivery apps globally. UberEats started operating since 2014. As the name suggests, Uber – the renowned e-hailing rides company is its owner. Uber has a roaring success on the ride-hailing market. So, they launched Uber Eats to diversify the business further. And it too caught on well with the users.
Among its many features, the most appealing is order-scheduling. With this feature, diners can save time by ordering a week in advance. For instance, you can order food for an entire week or one day next week.
This time flexibility is something we wanted to integrate into our Dinedoo application. It provides a very comfortable user experience.
Swiggy
Swiggy is another Indian on-demand food delivery app. It has outgrown all its competitors to become the largest in the country. Founded in 2014, Swiggy operates in about 100 cities across India, as of 2019. Swiggy is popular among diners. It is because of its timely delivery with its delivery fleet. Their amazing customer service is worth mentioning, as well.
Swiggy app has a Dynamic Delivery feature. It is one of the distinguishing things about the swiggy application. It allows users to download features of the app on-demand. Meaning, you can download what you require from the app and update it as when required. It allows space optimization whereby you don't block your phone's memory with unnecessary app features.
We aim to make Dinedoo as user-friendly as possible. So, we have decided to optimize the Dinedoo app for reduced usage of space and phone memory.
Foodpanda
Another very popular mobile on-demand food delivery service provider is Foodpanda. It currently operates in over 260 cities in 15 countries worldwide, among which 14 are in Asia.
Foodpanda is operating since 2012, and its headquarter is in Berlin, Germany. In India, it was recently taken over by the top-rated e-hailing ride services Ola.
The feature that sets Foodpanda apart is its recommended section on the app. It shows a list of the most popular restaurants. Also, it offers super-fast delivery and ongoing offers. This feature allows diners to experiment with different restaurants and dishes. While also letting the eateries advertise themselves.
Our goal is to replicate a food delivery app that is best in all possible ways. So, we have included this feature of Foodpanda in Dinedoo.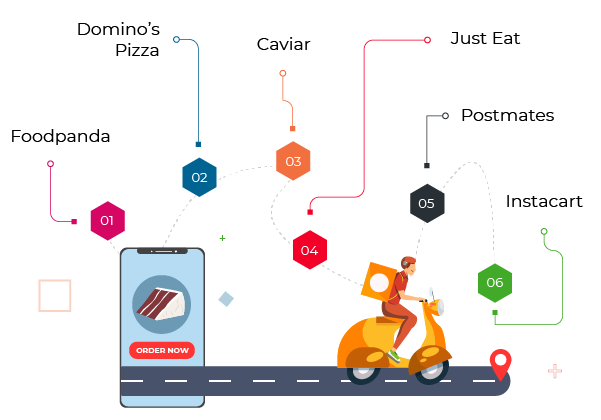 Domino's Pizza
Did you know that the founder of Domino's Pizza was a college dropout? Goes to prove that success comes to those who work hard for it. Because as of 2013, Domino's Pizza is the second-largest pizza chain worldwide. The founders initially thought they would add one dot whenever they open a new Domino's Pizza store. Thankfully, they let go of the idea after seeing how fast it was growing.
The Pizza chain is a pioneer on many fronts. One of them is the zero-click order feature on their app that they launched back in 2016. The feature allows diners to place their saved Easy Order just by opening the app.
Realizing its potential, we incorporated this feature in the Dinedoo app. It is sure to magnify a great user experience.
Just Eat
Just Eat is another British online food delivery service. It is among the most valued European food tech companies too. Founded way back in Denmark, in 2001, Just Eat is now operating in more than ten countries. The company is a pioneer in this area of business. The takeaway and online food-ordering was not even a trend when they launched the Just Eat app.
In quarter four of 2012, more than a quarter of the orders came from mobile phones. Noting this, Just Eat launched its app on smartphones, and the orders for takeaway increased manifolds.
We wanted to imitate the mobile takeaway order feature of Just Eat for our Dinedoo. The reason is its simplicity and the convenience of use for diners. Just a few clicks and done!
Postmates
The unique selling point of Postmates is that it delivers anything and everything. The company says that it will deliver anything, excluding animals, controlled substances, and gift cards. They also started delivering Food items to customers. Launched in 2011, this American company boasts of enviable growth.
One aspect that makes Postmates stand out in the crowd of its peers is its 'Create a Shopping List' feature. It allows users to order different food items from different restaurants. Diners can choose a food item, add to their shopping list, and order when they are ready.
Seeing the efficacy of this system, we have also included it as a unique feature in the Dinedoo app. We believe this exclusive feature will set Dinedoo far apart from its competitors.
Instacart
One of the biggest online grocery delivery service providers in the US is Instacart. It allows users to shop groceries through mobile apps and have them delivered at their doorstep. Instacart will assign a shopper when the user adds all their items in the cart. Then, the shopper will pick up and deliver those items.
However, online orders have increased manifold due to the present situation. Hence Instacart introduced a new feature called Fast & Flexible to combat it. The feature allows users to book the first available shopper to deliver their items. Thus they are reducing the wait time.
Dinedoo comes with a Fast & Flexible feature. To ensure that if and when such a scenario occurs, no users are left disappointed. Diners can choose this feature when they need fast delivery.
Caviar
Caviar is a premium food delivery and pickup service provider based in San Francisco. It started in 2013 with just 30 restaurants and has grown immensely over these few years. It is a premium delivery app because it only lists selected eateries. The visual menus are one of the most attractive features of Caviar. Many people say they just visit the app to look at these enticing photos of the dishes.
Another new feature introduced into the app was food pickup. It allows users to order food online and then pick up themselves when the order is ready. It not only saves time of the diners but lets them avoid the queue too.
The pickup is another feature we chose to incorporate in our special Dinedoo app since many prefer it.