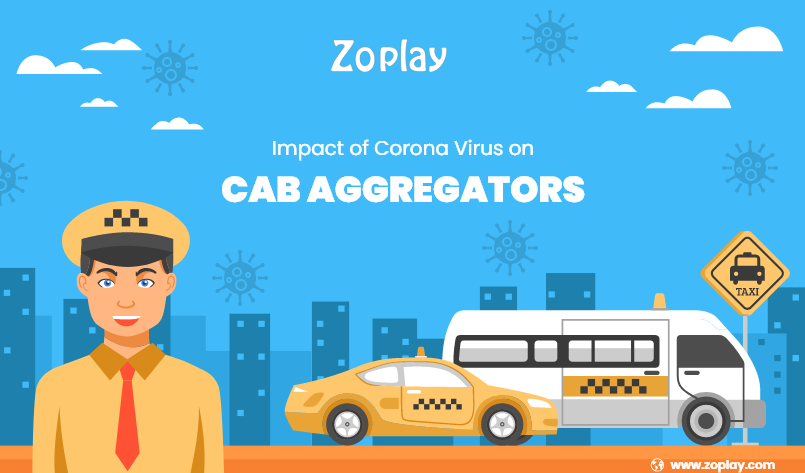 Impact of Corona Virus on Cab Aggregators
The Coronavirus pandemic has disrupted millions of daily lives and businesses worldwide. Businesses like hotels and cab aggregators have been the worst hit. It is because of how much these businesses rely on face to face people interaction daily.
Governments across the world have laid down strict regulations. Cab companies have to follow these regulations to continue their operations. These precautionary measures are mandatory. Cab companies like Uber and Lyft have invested millions in ensuring passenger safety.
Everyone's focus is on ensuring a safe and hygienic ride without compromising on price points. Cab companies are implementing a series of steps in this regard. It ranges from mask policies to car cleanliness before and after the ride.
A Few Common Safety Measures Across Companies Worldwide Are:
Go Live Checklists for Drivers and Passengers
Go online checklist prescribes a list of things. Both drivers and passengers have to follow those while availing cab services. This checklist includes mandatory mask usage and sanitized vehicles. Drivers need to do a wipe down after every ride. Repeated violations by drivers/passengers will get them banned from the platform.
All companies have devised a targeted campaign which aims to educate customers. Banner ads, push notifications, and posters inside the vehicle illustrate best practices. It will help us to remain safe from the virus.
The checklist also includes a spruced-up feedback mechanism. Companies have added specific health and safety-related feedback questions to the app. After a passenger completes a trip, they answer these set of questions. It is to cross-verify the safety expectations of the passengers. Drivers with poor ratings will get appropriate training. If they see any multiple violations or poor customer feedback, it will lead to removal from the platform.
Revised Cancellation Policies
Most cab aggregators have made changes to their cancellation policies.
Passengers are not charged a cancellation fee in many cases if they don't feel safe during the ride. Some cab companies like Ola have retained exiting norms for cancellations. Several other players like Uber intend to make changes to encourage more passengers. Uber released a revised policy aiming at customer safety. It focuses on building trust with passengers.
Proactive Communication
They check for Customers and drivers who exhibit coronavirus symptoms. Authorities will get the report continuously. The report will have a list of people who exhibit these symptoms or exposed to the virus.
Sometimes drivers may come down with any Covid-19 symptoms. In that case, drivers have to report immediately and self-isolate themselves.
Passengers have to contact the company if they have tested positive in the last 7-days.
There is a 24×7 manned customer care helpline.
Cab companies have trained the operators extensively. The support team has the required tools and authorization to identify safety issues.
Any safety or health issue reported is closely monitored. The companies also log it for record-keeping purposes. The helplines are constantly in touch with government health and monitoring authorities. These proactive steps stop the spread of any potential positive Coronavirus cases.
Sometimes customers may feel that the safety precautions are not adequate. In that case, Customers are also encouraged to contact customer support teams.
Mandatory Mask Policy
Everyone should wear a protective face mask in public spaces and transport. Across the world, governments have made it mandatory. Both drivers and passengers must wear a face mask throughout the journey. It is compulsory.
Many cab aggregators like Uber have procured high-quality masks for their drivers. Drivers must not take off the mask during the entire duration of the ride. Cab companies started procuring high-quality masks to ensure an additional layer of safety. Several countries asked people to throw away the masks after everyday use.
Extensive Driver and Partners Trainings
Companies spend plenty of time and money in training their drivers. The training imparted covers safety, hygiene, and social distancing best practices. They get trained to identify symptoms in themselves as well as passengers.
Cab aggregators are setting up dedicated hotlines for the drivers. It is to report any exposure or serious symptoms. To follow the operating guidelines prescribed by the government, they give intense training. Drivers and partners can choose to undergo online counseling. There is a prime goal for this training and education. It is to standardize how every employee implements the new policies.
Photo ID/Selfie Verification
Many companies, like Uber and Lyft, have a verification system. By using the phone camera from the app, they confirm the driver/passenger identity. It takes a snapshot of them wearing a mask. This implementation is encouraging passengers to feel safer during their commutes. It also verifies the key safety protocols. Both company and the government have mandated these safety protocols. So, we have added this Selfie Verification feature in our uber clone application as well.
Driver Temperature Checks
Many cab operators display the body temperature of the driver while booking. Drivers need to measure body temperature several times a day after and before the trip. They need to report any spike in body temperature to the company hotline. If they detect any Coronavirus symptoms, the drivers must undergo mandatory self-isolation. Also, they must see a doctor and stop working immediately under these circumstances.
Cab companies are setting temperature checking stations in multiple zones. They are setting it throughout the cities and suburbs. It makes it easier to monitor the body temperatures of drivers within a certain area. There are some areas where a large number of cases have been previously reported. Temperature checking has proved to be highly valuable in those areas.
Sanitized and Fumigated Vehicles
Drivers must regularly sanitize their vehicles. It is one of the first common responses by cab aggregators to coronavirus. They encourage drivers continuously to follow good personal hygiene. They disinfect all vehicles and wipe them down with sanitizers before and after each trip.
Drivers give special attention to common surfaces. It includes door handles, windows, and seats in the car. Many companies perform random checks to ensure that they follow these rules strictly. The vehicles must get fumigated thoroughly at least three times a week. Many companies have made it mandatory. It is in addition to daily wipe downs and cleaning of the cars.
Fumigation centers are getting ready in many hot spots across cities in the world. Hot spots include places like airports, train stations, and tourist destinations.
Maximum Passenger Limit
It is a global advisory to limit the number of passengers in the cab at any given point of time. Cab companies all over the world have set this limit to exceed no more than two passengers.
For additional safety, passengers can only use the back seat of the vehicle and not sit on the front seats. It ensures that they follow adequate social distancing protocols. It significantly reduces the risk of getting exposed to the Coronavirus.
All passengers are always required to wear masks. They are also requested to have minimal conversations during a ride.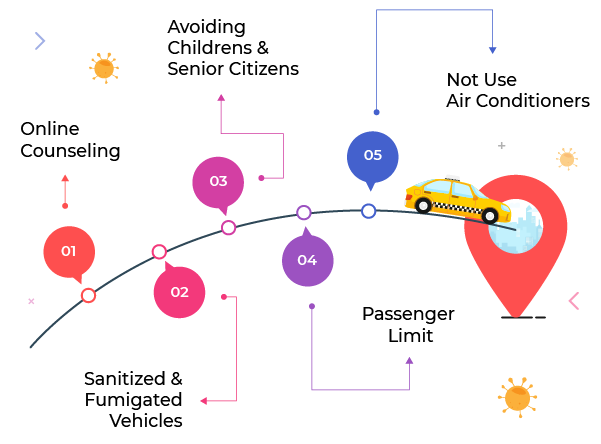 Commuting with Younger Children/Senior Citizens
Young children under 6-years of age and senior citizens are more susceptible to the Coronavirus's ill effects. Cab companies discourage traveling with children and senior citizens to prevent exposure.
Apart from wearing a mask, they also should sanitize themselves before and after trip completion. Cab companies are advising the drivers to roll down the windows during a trip. It will help to enhance air circulation.
A/C Usage During The Ride
Companies are advising not to use air conditioners during the ride. Air conditioning inhibits clean air circulation. It can accelerate the spread of the virus.
Companies advise rolling the windows down during rides for clean ventilation. There have been reports that indicate that the virus may spread more in a confined space. Clean air helps flush out the virus from the interior and helps reduce the possibility of exposure. Some cab drivers are using exhaust fans. They do it to achieve good air circulation within the vehicles.
Many companies, including Uber, are considering the installation of transparent barriers. The barrier would exist between the driver and passenger. This plan aims to minimize the physical contact between the two parties. Thereby it reduces the risk.
Companies encourage passengers to pay using online methods to pay for the rides. Using physical cards or cash during a trip can be a potential route for the Coronavirus to spread further.
Cabily
Cabily is our flagship solution. It will get your app-based taxi enterprise off the ground instantly. It is a well-designed and tested app available for both Android and iOS platforms. Cabily brings you the best features of a taxi app (like Uber, Ola, or Lyft) and is seamless to implement.
The app is in-built with the most popular features from platforms such as Uber, Ola, Bolt, and many more. The app is completely secure. It has the best encryption standards to facilitate safe online payments.
Our UI/UX experts and programmers can customize the look and feel as per your requirements. We can also tweak the features to suit your business model and branding style.
Our uber clone app is user-friendly and incorporates top industry practices in UI/UX. The customer journey in the app is similar to popular e-hailing apps such as Uber or Ola. It increases the usability of the app and enhances the overall customer experience.
You can save months of development, research, and testing time. Save your time by implementing our app for your business. Our skilled expert support team is proactive in fixing any issues or bugs encountered in the app. Our uber clone is scalable to sustain business growth and can be live for operations in just two days!
If you are looking to become a cab aggregator, then it is the right time. Get our uber clone solution and launch an On-demand taxi business immediately. Speak to our expert today!