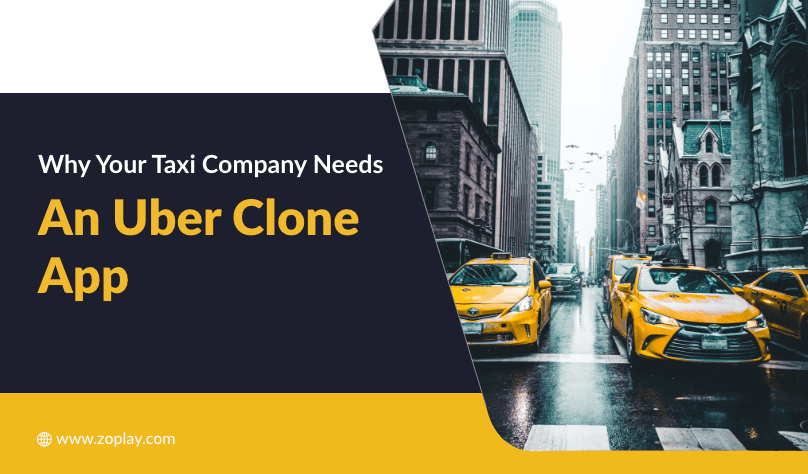 Why Your Taxi Company Needs An Uber Clone App?
Why Your Taxi Company Needs An Uber Clone App?
The taxi industry has undergone a complete transformation in the past few years. The main driver of the changes in this segment is technology. The number of passengers who hail rides by making phone calls or waving down cabs on the street is rapidly dwindling. Instead, it is now common to see passengers reach out for their smartphones when they need a taxi.
The advent of smartphone applications has changed many service sectors. And the taxi segment is no exception to it. An increasing number of taxi companies are switching their operations from offline to online using mobile software. There are many reasons why they're making this shift. Have you made the transition yet?
Offering taxi services to commuters through a smartphone application gives you a competitive advantage in the market. In this article, we tell you why your taxi company needs an Uber clone app. Let's get started.
How Is Uber Dominating the Taxi Segment?
According to Business of Apps' statistics, Uber's ride-hailing app generated a whopping revenue of USD 11.1 billion in 2020 alone. Uber enjoys its leading position and generates massive revenue primarily due to its mobile software. But it's not just any mobile app. It is easy to sign up for and use.
More importantly, the Uber app has all the necessary features that passengers need to book a cab. The features the app provides through passengers' commutes till they reach their destinations are also highly convenient.
Finally, Uber employs an effective business strategy to keep its users loyal to the app and generate maximum revenue. So if you're thinking of launching a taxi app, it is a good idea to emulate what Uber is doing. You can easily do that by investing in an Uber clone app. It saves you a lot of money and time. Let's take a look at what an Uber clone app essentially is.
What Is an Uber Clone App?
An Uber clone app is a ride-hailing software app that contains a script that codes for similar features as that of the Uber app. Uber clone applications harbor a plethora of ready-to-use features. They include GPS tracking, a rich user interface, custom color themes, and more. Furthermore, Uber clone apps come as a white-label solution. That means you can customize and rebrand it according to your business requirements.
Purchasing an Uber clone app saves you plenty of money and time in launching the app. You don't need to worry about developing it. All you have to do is personalize it. Now let's discuss how an Uber clone will help take your taxi business to the next level.
How an Uber Clone App Benefits Your Business?
Uber has become the paradigm of the ideal taxi app. Due to its massive success and position in the market, an increasing number of taxi companies are following Uber's footsteps. Developing a world-class app like Uber's ride-hailing app no longer requires extensive development skills and knowledge. All you need is an Uber clone app. Here are some benefits of investing in an Uber clone app for your taxi business.
1. Automate Taxi Services
Long phone calls to book and arrange for taxis are a thing of the past. An Uber clone app will automate the booking process. Customers can instantly book cabs to travel from one destination to another with only a few taps on the app. After that, the Uber clone script auto assigns cabs to the customer.
Providing support is also incredibly easy through the clone application. Your customer support team can communicate with customers via in-app chat. Not only does the automation minimize your workload, but it also enhances customer satisfaction.
2. Tap into a Large Customer Base
Almost everyone has a smartphone today. Most purchase and hiring activities are happening over the internet, including ride-hailing. By investing in an Uber clone app, you tap into a massive audience base across a broad geographical location. And the more unique your app is, the more it will stand out in the app market. That results in higher taxi bookings, and in turn, generates higher profits.
3. Multiple Modes of Payment
Uber clone app scripts support multiple payment gateways. With digital payments on the rise, it is crucial to give customers the freedom to pay for rides in any way they want. Uber clone apps facilitate that. Customers can pay in more ways than just cash payments. Passengers will be able to pay in their preferred mode of payment. That includes debit/credit card payments and mobile wallet payments.
Like how the automation of taxi bookings enhances the customer riding experience, offering customers the choice to pay in multiple ways brings about the same outcome.
4. User Feedback
Uber clone app scripts support a feedback system. Using this feature, customers can provide their opinions on your taxi service via star ratings and comments. Such feedback can be valuable in optimizing your services. It helps you find areas of your service that needs improvement. By focusing on them, you can quickly improve the prospects of your taxi business.
5. Gain Customer Insights
Using an Uber clone app to provide taxi services to passengers gives you many insights. You can learn where your customers usually travel, their demographics, and more. It also helps you optimize your services so that you can cater better, high-quality rides to them.
Conclusion
Investing in an Uber clone app improves your taxi service's revenue by many folds. Besides, it saves you plenty of time and money compared to building one from scratch. If you're looking for a world-class, reliable Uber clone app, then Cabily is the perfect solution for you. It is rich in features, simple to use, and easy to set up. Contact our team at Zoplay to purchase it today.