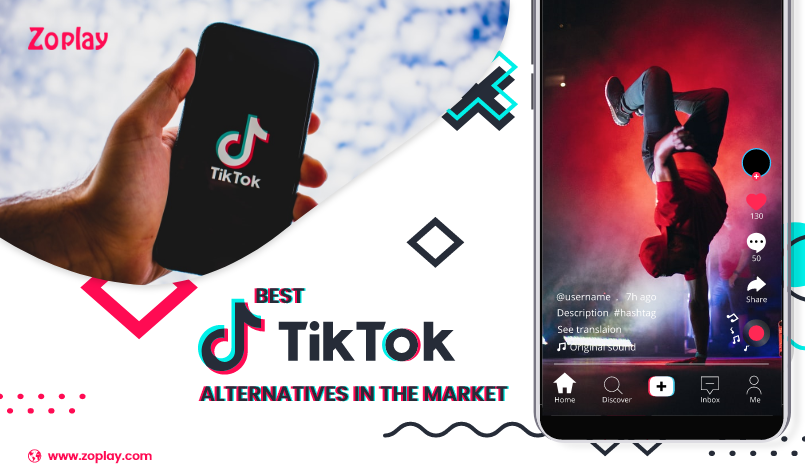 Best TikTok Alternatives In The Market
Funly 
Are you searching for an app that is the best alternative to TikTok?
We are Presenting the TikTok Clone app – Funly to you.
Funly lives up to its name by allowing you to capture the fun moments of your life. There are no boundaries on Funly. Make your mind-blowing videos and take them to the next level by using the Funly filters. It is a repository of millions of videos, cherry-picked for you.
You can discover videos from a legion of categories. Besides, it has live streaming. But the list does not end there. Funly has countless head-turning videos for you to explore and options to create them like a pro.
Create, share, and connect with millions of people through Triller. For all those creative minds, this platform is your window to instant recognition.
Triller is perfect for expressing your talent and connecting with content. Its most alluring features include over 100 filters and an easy to use interface. You can personalize your videos with drawings, emojis, and texts.
Triller provides you with trending tracks to create your music videos on top of that. But if you want to access your library, you can do that too. You have the full creative liberty here. The icing on the cake is that Triller does not restrict your talent to this platform alone.
You can share your content through social platforms like Twitter, Instagram, and Facebook.
Want to lip-sync an audio clip and relive a moment of your favorite movie?
Fulfill your wish with Dubsmash. It is not just dialogues of movies; you have access to audio clips from TV shows, internet trends, and songs. The process is simple. Just choose an audio clip and create your video by dubbing over that piece.
Dubsmash also gives you a platform to display your acting skills. Share it with your friends or on social media platforms and be the eye candy of millions. Dubsmash offers you the perfect recipe for entertaining people.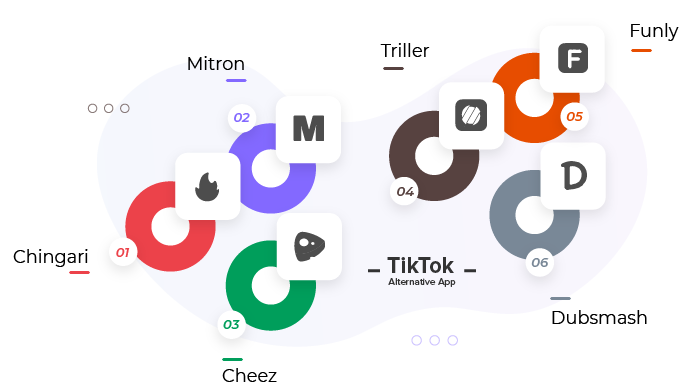 Mitron
Mitron's interface and features are similar to the TikTok app. Created to fill people's lives with light humor, Mitron has always remained true to its goal.
On a day packed with hectic schedules, befriend Mitron and let it offer you a few moments of laughter. There are thousands of short videos here. But if you are eager to create your own, just sign in, and the stage is all ready for you.
Mitron is a short-video platform, and it has handheld many to popularity. It is the perfect platform for people passionate about unique and entertaining content.
Give your talent the push and set the stage on fire with Chingari. Made for those who love to make creative videos, this app is climbing the popularity ladder fast.
Chingari app debuted on Google Playstore in 2018, and on the iOS platform in January 2019. Here, the stage is custom designed to meet your needs. The makers know how much people love to express themselves in their mother tongue. They offer over eight languages to make videos from the app.
All its features are similar to TikTok, and it has a simple user interface. Just get rolling with Chingari – a TikTok Clone application.
The developer of Cheez, Live.me, Inc believes that everyone is special. Hence, it has created a platform for you to hone your skills and share your hidden talent with the public.
Cheez is a video app that allows you to create and share videos but with a twist. The length of the videos cannot be more than 17 seconds.
Cheez has many interesting features like a dance-off, group battles, and hashtag challenges. Apart from this, you have access to a huge collection of voice changers, live filters, and stickers. Its editing tools are of cutting-edge technology. These tools allow you to cut, trim, and merge videos with ease.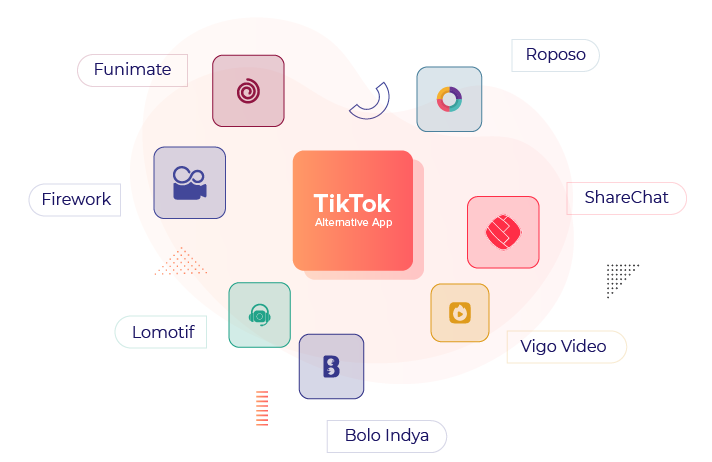 Find like-minded people and share your content with them in ShareChat. One of the popular social media apps, ShareChat, offers you many interesting options.
You can share Jokes, memes, trolls, WhatsApp status, greetings, & viral videos of movies. You name it, and you will find it on ShareChat. This app has chatrooms as well and that too in 15 languages.
You can join one of them or even create your chatroom. But, ShareChat is not just all about sharing funny content. The makers have expanded the horizon by making it informative as well.
In need of some beauty tips or fitness videos?
Log in and select the one that will best suit you. This app also guides you on how to prepare for your interview.
Making money is not simple. Just create funny videos and music clips by using Vigo Video and share them online.
As the app is available in 150 markets across the world, imagine the reach you can have. Also, it has outstanding features that not only make videomaking easy but fun too. In its latest version, you can go live streaming. Click on the 'Go Live' button, and you are ready to go.
You can apply the new filters while going live and change your looks. Now, if you want to share any content with any individual, Vigo Video gives you that opportunity.
Apart from giving you a platform to create and share videos, Firework has its original series list. Having TikTok-like features, it organizes all videos according to trending topics and contents. However, your home screen will show only those related to your interests.
Firework app allows its users to repost content to encourage more user activities. Also, there are the sponsored hashtag contests every week. You can either raise money for a social cause or earn for yourself by taking part in these contests.
On Firework, the video length cannot exceed 30 seconds. This app encourages personal conversation. So, you can directly message a person and share your feedback.
Want to create funny videos but do not know how? Let Funimate be your mate. One of the highly sorted fun video editor apps, you can perform a range of activities here.
Funimate includes music video clips, slow-motion videos, lip-syncs videos, and fan edit videos. The features of this TikTok Clone app are quite out-of-the-box. It offers you over 100 video filters. But if you want to create your effect, Funimate lets you explore.
Make music videos or add music to videos, the options that Funimate offers will amaze you. You can also make video loops, add emojis, texts, and stickers to videos. In short, you can go wild with your creativity here.
Bolo Indya
An Indian video app, Bolo Indya, believes that language should not be a barrier to creativity. Thus, it enables its users to create short videos in nine regional languages of India.
You can do more with the Bolo Indya app apart from creating funny and entertaining videos. Its users can share videos across all categories. For example, from GK to news, health, travel, food, cooking, exams, technology, and the like. The main focus of Bolo Indya is to empower every Indian. It wants them to voice their opinions and share their experiences.
For Bolo Indya, people matter the most. Thus, it focusses on increasing their knowledge and awareness of current developments. On top of that, you can earn royalty if your videos become popular.
Made in India, Roposo is where creativity gains popularity. You can use this app in eleven different languages for sharing images and videos. Its GIF stickers, video filters, and effects give your creativity the ultimate push.
You can create time-lapse to slow-motion videos using this TikTok Clone app. That too in various lights, including natural, studio, and contour.
Use Roposo's filters and stickers in your WhatsApp status videos and see them becoming viral. It has over 25 channels related to comedy, fashion, singing, sports, and the like.
Roposo gives its users limitless original content, including videos of stand-up comedy. Bhakti Tv, Look Good-Feel Good, Beats are a few of Roposo's channels.
You dont need to rack your brain on editing skills. Lomotif is here to edit your videos instantly.
Using this TikTok Clone app, you can automatically transform clips into music videos. But if you want to test your editing skills, the app has the perfect in-built editing tool for you. Apart from these filters are there. You can choose from seven filters to color your videos.
You can even add texts and titles aesthetically on Lomotif. Next time you want to make mini music videos for sharing them on social media platforms, you know the address.
Are you looking for a TikTok Clone application? Get in touch with us to get one!