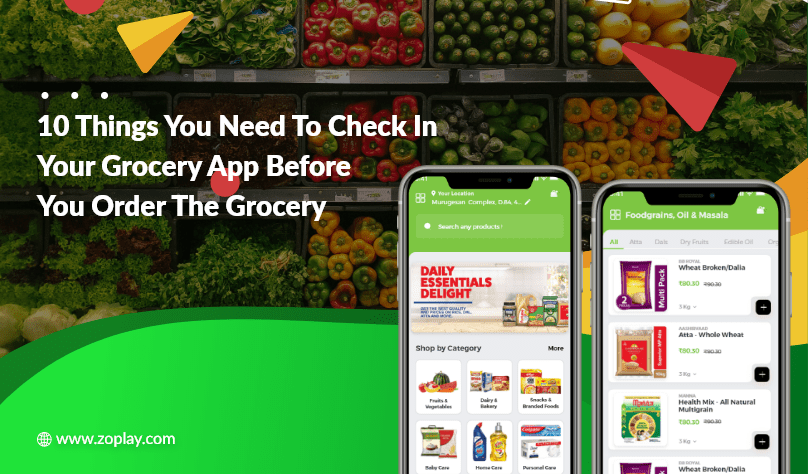 10 Things You Need To Check In Your Grocery App Before You Order The Grocery
10 Things You Need To Check In Your Grocery App Before You Order The Grocery
Safety Standards
Due to rising safety and hygiene concerns, it is imperative that your grocery app adheres to the strictest and current safety standards. Contactless delivery, temperature check of personnel, and other protocols are just a few procedures that must be followed. When it comes to delivery and purchasing food items, safety is of utmost importance. So, make sure that the grocery app you use has a strict policy regarding these standards.
Order Item Substitutes
A good grocery app should come with a feature to enable 'order item substitutes.' Not all stores have the specific brand or the type of product you require. An app with this feature lets the store know that you are open to substitutes, and they can process the order without real-time approval.
Scheduled Deliveries
Another must-have feature of a grocery app is the 'Delivery Schedule' or 'Delivery Window.' Users can place their order at their convenience and have it delivered to their doorstep at a specific time and day. Stores and shoppers are intimated ahead of time and can process the pre-paid order for your chosen delivery window; this ensures that you're always at home when your groceries arrive.
Real-Time Tracking
Once an order is processed, users can track their order via a live map interface with GPS tracking. Clients can also directly contact the delivery person if they observe delays or have a last-minute location change.
Easy & Secure Payment Options
Ensure that your grocery app has a secure payment page that offers reputed payment gateways such as Paypal, Amazon Pay, Gpay, or Apple wallet. Additionally, the app should have other payment options such as credit/debit card payments, net banking, and cash on delivery. The more options, the easier it is to set up a recurring payment plan in the app to allow seamless transactions with every order.
Variety of Grocery Options
Depending on the operation model, a grocery app should have a wide variety of brands, products, produce, and items for the user to purchase. The grocery app should offer access to name-brand products, grocery staples, and seasonal items. It should also offer discounts and sales to give users that in-store feeling and the ability to choose from different options.
App Reviews
Checking the reviews of the grocery app will give prospective users a clear indication of the effectiveness and reliability of the app. Reviews of a particular app are posted in the Android or iOS app stores. Additionally, a quick Google search will also bring up user-tested reviews. Based on their rating and reviews, you can decide to download the app. However, not all reviews are an actual litmus test of the app, so make sure to try out an app that you feel is best suited for you.
Quick and Easy Account Setup
Setting up an account is an essential step as it's a one-time process that allows you to input all your details to make future orders and payments easy. The account setup should include a secure password-protected login feature, along with contact details such as an address, phone number, name, payment details etc. Once you're registered, all you have to do is order, pay, and expect your delivery.
Easy Menu Navigation
Just like walking through the aisles of a grocery store, the menu of a grocery app should be just as easy. A grocery app with a comprehensive yet straightforward menu with clear headings and subheadings is the best choice as it allows you to find a product you're looking for quickly. Easy-to-navigate menus also mean that you spend more time shopping and less time browsing to find your desired product.
Product Recommendations
Another great feature in a grocery app is the recommendations that are offered based on your buying and in-app search history. Recommendations can help you find better quality products at comparative prices and offers/deals on previously bought items. These recommendations are typically located at the bottom of the page and can help you discover the latest products that fit your purchase history.
Why Should You Launch Your Own Grocery Delivery business?
Here is a list of Top-features Available in our grocery app:
Easy & Quick Sign-Up
Our app allows users to register manually through a fill-up form or via their social media/email accounts for an easy sign-up process. Setting up an account is an important feature for a grocery app. Their account is where users come to check on their order status, input their contact and payment details to ensure smoother transactions. Vendors also have a similar sign-up process where they can access their profile, add/remove items from their store menus, or add coupon codes/ sales offers.
Add to Cart
Regardless of the operational method, our app offers an 'Add to Cart' option that allows users to buy from multiple stores but make one full payment. Thus, allowing customers to purchase their groceries without having to pay individual grocers. Additionally, the 'Add to Cart' option enables users to leave items in their cart and purchase them later.
Enhanced Search
Make shopping easier for your users by giving them a search bar to find the items they desire. Optimize the search results by allowing users to type in product names, brands, specific items, or keywords. This search bar also allows users to find grocers according to locations for those that want to shop locally.
Precise Live Tracking
A key feature of our grocery app is the live tracking of orders. Whether you're a vendor or user, both parties can track the delivery personnel and know precisely where and when the order will reach its destination. Along with live tracking, users can contact the delivery person if there is a change with the order or location.
Secure Payment Gateway
Users trust your app with their personal and payment details; therefore, it is vital to ensure that they are given the best payment options through secure and reputed gateways such as Paypal, GPay, Amazon Pay, Apple Wallet, etc. Our grocery app also offers other payment options such as cash on delivery, credit/debit cards, and net banking so that users have a variety of checkout options to select from while processing their orders.
Push notifications
Push Notifications are a must-have feature for any app, especially a grocery app. Remind your users of their recurring purchases or upcoming deals based on their buying history. Push notifications are also a great way to update users on exclusive app offers on products that aren't available in local stores or other competitor apps. So, keep in touch with your users through push notifications and get more engagement through this feature.
Customer Reviews
There is always room for improvement; customer reviews and feedback are an excellent way to pinpoint where critical work is required. Reviews also help other prospective users evaluate the app and encourage them to download it. Adding a review box after checkout or having a popup to review the app on the Android or iOS app store is a quick and easy way to get genuine feedback and improve the app.
Wishlist or Save For Later
Not all grocery items are a priority purchase, some are impulse buys, and some items can be bought at another time. No matter when your users want to buy an item, with the wishlist/save for later feature, they can add key products to a dedicated list and revisit it the next time they are on the app.
Quick Reorder
When it comes to groceries, certain items are weekly, recurring purchases. Give your users the option to reorder past items without the hassle of having to search for the individual items again. The quick reorder feature lets users select the same order from the same sellers to make ordering and payment convenient, fast, and easy.
So, if you Want to Start Your Own Grocery Delivery business, get in touch with us.