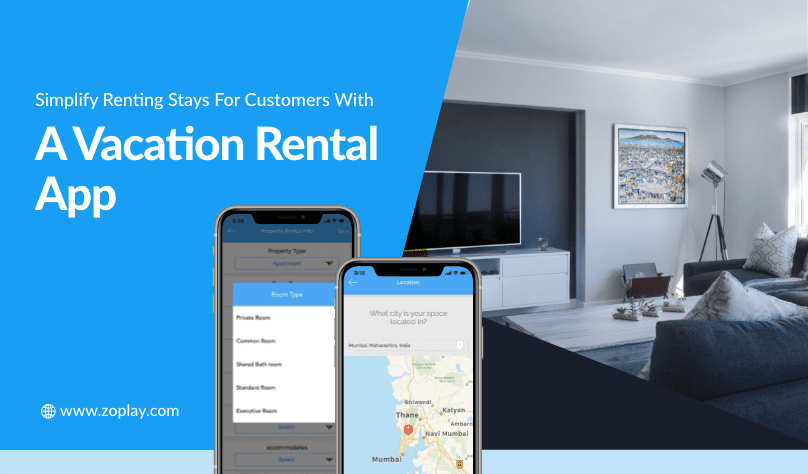 Simplify Renting Stays For Customers With A Vacation Rental App
Simplify Renting Stays For Customers With A Vacation Rental App
Long gone are the days when the only accommodation options for travelers were hotels. The rental industry is flourishing and thriving currently. Property owners are increasingly leaning towards renting their spaces for a shorter time. This trend is giving travelers more options for stays. That said, it can be difficult for vacation rental seekers to find properties that suit their requirements – be it budget preferences, location preferences, or any other.
As a vacation rental company, or an entrepreneur who's just setting foot into the segment, simplifying booking rentals for your customers has a lot of benefits. And the best way to do it is with a smartphone application.
In this article, we'll briefly look at a paradigm vacation rental app, then discuss why you should simplify the booking process. Furthermore, we'll cover what features your app must have and talk about the best solution for building your app. Let's get started.
A brief look at Airbnb
Airbnb is a leading vacation rental platform. It enjoys its number one status in the segment primarily because of its smartphone application. Airbnb's mobile software is a tool that customers find convenient to book homestays, experiences, and more. The company also offers a web service for availing their service.
Airbnb's smartphone app allows travelers to book stays with just a few taps. From registering on the app to getting a booking confirmation, it is a single, seamless process. The company generates revenue by connecting property owners with travelers. With each booking, Airbnb takes a commission fee.
The app displays comprehensive details of every property. It allows travelers to book stays that meet their requirements. Airbnb is the top homestay/vacation rental platform because of its simplicity and state-of-the-art features. We'll touch on some of those features your app must-have.
Why simplify vacation rentals for customers with an app?
Offering vacation rental services offline is a hassle for customers. In that case, they would need to make several long phone calls. Travelers would have to ask and clarify every little detail before booking a stay.
Deploying a website makes renting stays easier. Guests can look up a list of properties, choose a place and proceed to make the payment. But what's even more convenient in terms of speed and access is a smartphone app.
By launching a world-class booking app like Airbnb, your target audience will be able to rent stays with just a few taps and swipes. In addition to that, travelers can:
Customize the app according to their preference

Receive push notifications about booking offers and discounts

Quickly learn the ropes of how the app works
When customers find it simple to book homestays and other properties through your app, booking frequency increases. That leads to an improvement in your business revenue.
What features your vacation rental app must have?
Apps are convenient to use because of the features they contain. So you must make sure your app has the essential features that satisfy the needs of your customers. Here are some features that your rental app must have:
1. Simple sign up
Implement a quick sign-up feature. Long sign-up forms discourage users from registering on your smartphone software. Provide users with the option to sign up with their social media accounts such as Facebook, Google, and Twitter. It will result in a higher number of registrations. Guests that create an account on your app should be able to save payment details and personal preferences.
2. Search filters
When your app has a lot of property listings, it can be tedious for travelers to find a stay that suits their requirements. To help them with that, ensure you add search filters to your vacation rental platform. By using them, users can sort properties by location, availability, price range, and more. On top of that, they will also have a search bar. It allows guests to type in a keyword to find specific properties.
3. In-app chat
Even though your app displays comprehensive details of every available property, your customers may want to clarify few specific queries about them. Allow travelers to reach property owners instantly via an in-app chat feature.
4. Multiple modes of payment
Cash payments are becoming a rarity as each year passes by. There are various quick ways of making payments today. To keep up with this, make sure your app can accept multiple modes of payment. That includes debit/credit card payments and mobile wallet payments. For cash, you can offer customers pay using that medium when they reach the properties they book.
5. Feedback system
Finally, travelers look for properties that are trustworthy, reliable, and offer a pleasant experience. And reviews help them know that. Implement a robust feedback system through which guests can leave star ratings and comments.
Wrapping up
There are numerous benefits to deploying a vacation rental app. Provided it has the right features and is easy to use. You can build an app from the ground up. But that would consume enormous amounts of time and resources. Instead, you can deploy a world-class vacation rental app just like Airbnb with Renters. It is an Airbnb clone that has ready-to-use features and a stunning interface.
With some customization, you can deploy a rental app in no time. Take your vacation rental business to the next level by purchasing our top-notch Airbnb clone. Get in touch with us to know more.