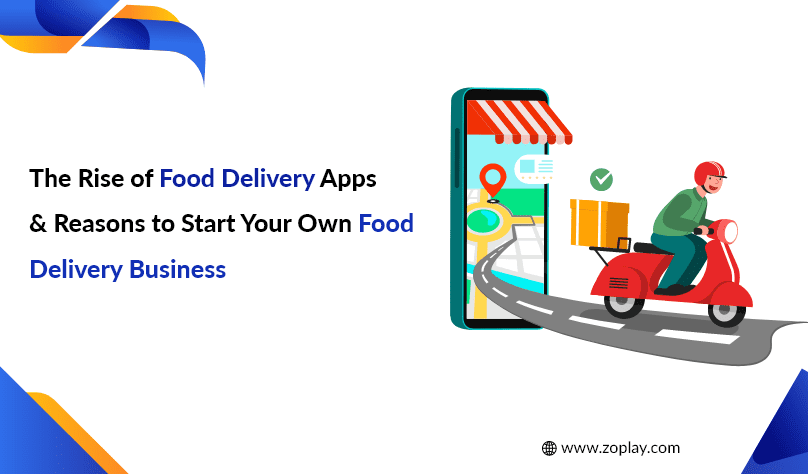 The Rise of Food Delivery Apps & Reasons to Start Your Own Food Delivery Business
Use of Technology in Restaurant Business
The restaurant businesses have witnessed a significant change in trends in the last 5 years.
Surpassing the takeaway trends, consumers have now embraced the food ordering trend. 
Today, food delivery apps like Uber Eats, Just Eat, and Grubhub drives billions of dollars in revenue. 
Whether you are a restaurant owner or an app entrepreneur, you cannot ignore the rising revenue potential of the food delivery industry. 
So, here we bring you consolidated insights into: 
The Rise of Food Delivery Apps

Latest Food Delivery Trends

7 Reasons to Start Your Own Food Delivery Business

How to Start Your Own Food Delivery Business Cost-effectively

The Top Features of our Food Delivery App
Let's learn the new ropes!
The Rise of Food Delivery Apps
The global food delivery services market recorded $115.07 billion in 2020. And it is estimated to surpass $126.91 billion by the end of 2021.  
The sector got pivotal propulsion from the lockdown norms in 2020. 
A majority of new consumers resorted to online ordering owing to the 'stay-at-home' regulation. And it propelled the food delivery industry several years into the future.  
Many reports say that the use of food delivery apps doubled across the USA in 2020. 
Moreover, this propulsion had a flywheel effect on the growth of the food delivery industry. And it continues to grow at an accelerated pace in 2021 and beyond. 
Here is the Projected Valuation of Food Delivery App Market from 2020 to 2027:
Presently, the US, UK, and China hold the largest food delivery services market. However, the industry is growing at a significant CAGR in Europe. And the European food delivery market might transcend the US market in a few years. 
China today leads as the largest market for food delivery services with its Meituan Dianping app. And the global leaders include Uber Eats, Just Eat, and Delivery Hero. Meanwhile, Zomato dominates the Indian marketers and is proliferating impressively. 
The food delivery app valuation is estimated to grow at a CAGR of 10.3% between 2020 to 2021. And today, the food delivery app model is one of the most prosperous business development ideas. 
Latest Food Delivery Trends
   1. Contactless Delivery
One of the most widespread food delivery trends is contactless delivery. It gained popularity in tandem with the social distancing norms during the COVID outbreak. 
A majority of food delivery businesses employed the contactless delivery trend in 2020. And this ensured that the meals are secure and delivered without violating the social-distancing norms. 
Popularity: 
Grubhub had been giving its customers an option to choose contactless delivery before this trend gained prominence. 

Moreover, Uber Eats summoned this trend into the mainstream in the USA. 
A majority of consumers still prefer to opt for contactless delivery, and brands continue to offer it. 
   2. Virtual Kitchens 
One trend that helped startups take time by the forelock was the virtual kitchens trend. Many startups launched new cloud kitchens solely for online delivery in 2020. 
They then listed their business on the food delivery service platforms to earn order requests. 
It helps businesses curtail the expense of setting up a dining space. Thus, earning solely through online food delivery. With that said, it is one of the most profitable food delivery trends. 
Popularity:
Thousands of innovative startups have embraced this trend globally, and the concept is growing rapidly. 

Kitchen United, a virtual kitchen set up in the USA, has raised over $50 million by expanding its distribution services in 4 states. 
This trend promises a huge potential owing to a low setup cost. Businesses just need to focus on the distribution of delivery-only meals. And they can expand their distribution radius faster. 
   3. Delivery by Drone
A cool trend intriguing food delivery brands for years now is 'delivery by drone.' 
Since the advent of food delivery apps, they are trying to bring this trend into the mainstream. 
So, few years down the line, you can expect a drone shipping your favorite pizza!
Sounds delightful, right?
Popularity: 
Zomato acquired TechEagel, a drone startup, to deliver meals across 5Km. The drone carried a payload of 5Kg at 80km/hr and delivered the meals within 10 minutes. 

Domino also utilized the delivery by drone trend in 2016. The popular brand used drones to deliver pizzas to consumers in New Zealand. 
This trend allows businesses to eliminate the delays owing to the traffic. And businesses can manage several deliveries in less time. 
Businesses also plan to add features like insulated compartments, payment QR systems, etc., to the drone.  
In concert with the drone, businesses are also using robots and self-driving cars for food delivery. 
DoorDash, the USA-based food delivery business, utilized delivery through robots in 2019. The firm also associated with General Motors to test meal delivery via self-driving cars in San Francisco.  
7 Reasons to Start Your Own Food Delivery Business
   1. Grow Alongside the Consumer Trends
Business of Apps estimates that the valuation of food delivery apps will reach $300 billion by 2027. 
The industry has surpassed $115.07 billion in revenue and is growing at an impressive CAGR. 
It is currently lead by numerous food ordering apps and delivery platforms. And these apps witnessed a 200% increase in revenue in 2020, thus driving billions in revenue. 
With that said, the food ordering app market is flourishing alongside consumer trends. And it is the best time for restaurant owners and app entrepreneurs to build and grow their own food delivery app. 
Restaurant owners are sure to get a better advantage from their proprietary food delivery app. Customers are likely to order from a restaurant's own app over a third-party app. 
   2. Boost your Profit Margins
If you are a restaurant business owner, you probably share your profits with 3rd party food ordering apps. 
A 3rd party app collects 30-35% of commission on every food delivery they make. And this commission becomes voluminous when facilitating millions of orders. 
Delivery charges by various popular food ordering brands: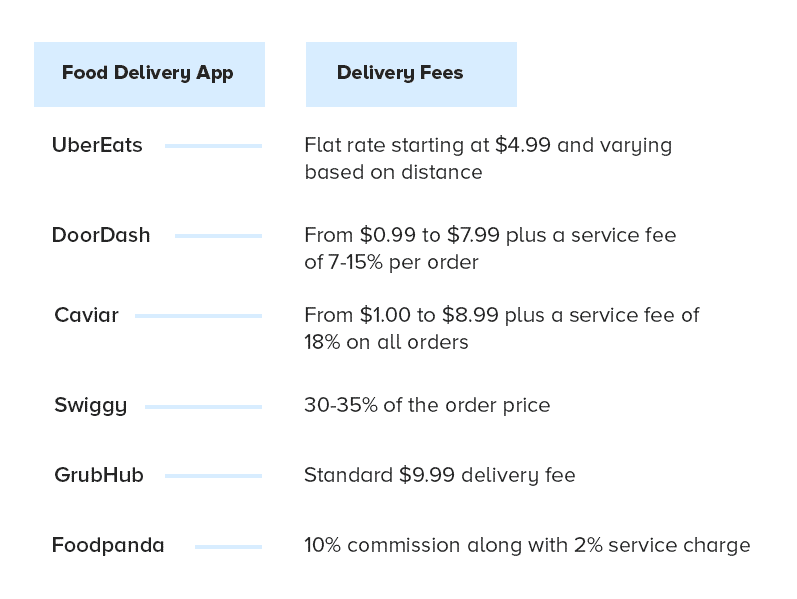 Some restaurants process thousands of food ordering requests each week. And this means they share a significant amount of revenue with 3rd party apps. 
A recommended way to capitalize on your food ordering profits is by building your own app. 
With a food ordering app, you can curtail profit sharing. You will have a wider profit margin to outperform your competitors by giving discounts. Even razor-thin discount margins can work impressively for your business. 
   3. Offer Personalization and Customization 
It's 2021, and personalization has a huge impact on consumers' buying habits. But a 3rd party food ordering app offers generic features to all restaurants listed on its platform. 
So, you cannot personalize the food ordering experience for your target customer base. 
Moreover, you do not have a choice of customizing your menu or offerings. Therefore, there is also a risk of neutralizing your brand's popularity among several new competitors. 
Meanwhile, if you build your own food ordering app, you can offer a personalized experience. You will have some other perks like: 
You can have custom features on your app

You can customize your menu 

You can promote customized and personalized offers

Your app with attract customers loyal to your brand
   4. Deliver Superior Food Ordering Experience
The food ordering experience has been a major concern with 3rd party delivery providers.
Consumers regularly witness inefficiencies like: 
Delay in food delivery;

The delivery person displays rude behavior; 

The food package is not handled appropriately; 

There is a limited choice of payment options, etc. 

Inaccurate deliveries and lost orders. 
These hassles are more common with 3rd party apps as they cater to several restaurants simultaneously. 
With your own food delivery app, you can offer a better food ordering experience. You would have your own delivery personnel whom you can manage. And win new customers with your superior food delivery efficiency.  
   5. Reinforce your Brand Familiarity
When you facilitate food ordering through a 3rd party app, you risk your brand popularity. 
3rd party apps can help brands with low popularity get some awareness and business. However, if your brand already has a decent awareness, you might end up neutralizing it. 
Both startups and brands get a similar window and profile on 3rd party apps. And this abstains brands from stand-out among the other restaurants on the platform. 
Moreover, a 3rd party app plans all the promotions under its brand name. And so, its popularity is most likely to outperform the restaurants on its platform.
However, when you build your own delivery app, you can establish great brand popularity. 
When users have your app installed on their devices, you gain significant brand popularity. Each time a user uses your app on his phone, your brand's name is reinforced in his memory. And this adds to increased conversions and revenue for your brand. 
   6. Grow your Brand Loyalty 
A 3rd party delivery app has several restaurant brands listed on its platform. And this neutralizes your brand popularity. 
Moreover, you share the same space on a 3rd party app as a startup restaurant. It means that your competitors have a higher opportunity to steal your customer base. 
So, if you are a restaurant owner, you must consider making your own food ordering app. 
This app allows you to retain and grow your brand reputation. And you can now offer a better food ordering experience, discounts, personalization, etc. Moreover, you can also establish loyalty awards to boost brand loyalty via your app. 
   7. Keep Your Promotions A Cut Above 
A mobile app can offer you a greater reach than other digital platforms. Moreover, the promotions through mobile apps cost you lesser than other platforms. 
You might need a handsome marketing budget to promote your offers via a web platform.
However, you can simply do it for free with the notification feature on your mobile app. 
If you have your food ordering app, you can keep your promotions a cut above your competitors. 
You can check in-app promotions, promote deals on the app, try notifications, etc. Personalized offers and limited-time deals can also help you sell better. These individual promotion opportunities aren't possible with 3rd party delivery apps. 
How to Start Your Own Food Delivery Business Cost-effectively
So, you wish to make your own food delivery app but are concerned about the development cost. 
Well, developing a food delivery app can take up to 4 to 5 months. Moreover, it demands a handsome app development budget. 
As per insights from various sources, the development of an app like Uber Eats or GrubHub costs around $35,000 to $50,000. 
And this cost can exceed up to $60,000 if there are any custom features. Hence, you might be paying over the odds for an app unless you cater to millions of orders monthly.
Is there a cost-effective way to build your food delivery app? 
We have launched a ready-made food delivery app platform named Dinedoo. 
It allows businesses and restaurant owners to launch their own food delivery app within two days. 
So now, you do not have to plan for a long app development journey. And you aren't obliged to spend thousands of dollars on your food ordering app.
Instead, Dinedoo offers you a ready-made food ordering app solution at a low subscription cost. 
Thus, with Dinedoo, you can build and customize your own feature-rich food ordering app.  
The Top Features of Our Food Delivery App (Dinedoo):
a) Simple Login and Account Creation
Consumers can easily sign in through their phone numbers or Gmail Ids. And they can create their account on the app for a one-click or OTP-based login. 
The users can set and save their location and delivery address details on the app. 
b) Dynamic Search and Browsing Menu
The app comes integrated with the dynamic search feature. It allows users to search for restaurants or their meals intuitively and faster. 
The users can simply browse through the different items in the menu. And they can add or remove items from the cart. 
c) Easy Order Placement
Once a user has added items from the menu to his cart, he can place the order. All he has to do is: Check the cart value, set his delivery location, and place the order. 
Here the users can conveniently choose from their saved delivery locations. 
d) Discount/Deals, Cashback, and Loyalty Points
To increase sales and reduce cart abandonment, the brands can offer discounts. So, the user has the functionality to check discounts and use them before placing an order. 
These discounts can be in the form of direct discounts or cashback points. The app owners can also offer loyalty points and referral points to users. These points can be redeemed as discounts while paying for an order on the app. 
e) Delivery Instructions and Contact Support
Consumers today love personalized food ordering experiences. And therefore, one of the features of our food ordering app is 'delivery & cooking instructions.' 
It enables users to add custom delivery and cooking instructions while placing an order. 
They can also contact the restaurant and delivery person for custom instructions. 
f) Convenient Online/Wallet Payment Options
One of the most convenient features is secure and easy payment options. Your app comes integrated with popular wallets and online payment features. So, the user can choose their preferred payment option and make safe payments. 
Moreover, the user can save their payment methods for future orders. 
g) Real-time Order Tracking 
The app offers real-time order tracking feature for a superior food ordering experience. The users can track the entire delivery process through the real-time GPS tracking feature. 
Thus, he knows the status of his order from the point he places it till it is delivered. 
h) Reviews & Ratings
Social proof significantly impacts consumer decisions, especially while ordering food online. 
Therefore, the app enables users to rate a meal, the delivery boy, and the app. Moreover, he can check reviews and ratings from other users on the app. Thus, making informed (socially validated) choices on the food ordering app. 
This feature is most likely to build significant trust for your app and food ordering brand. 
Other than the essential features, we can help you add custom features for your business. Moreover, you can customize the app theme and name as per your brand's requirements. 
Further, if you wish to multiply your profits with your own Food Delivery App, get in touch with us. Our experts will be happy to provide you a free consultation on our Dinedoo app.