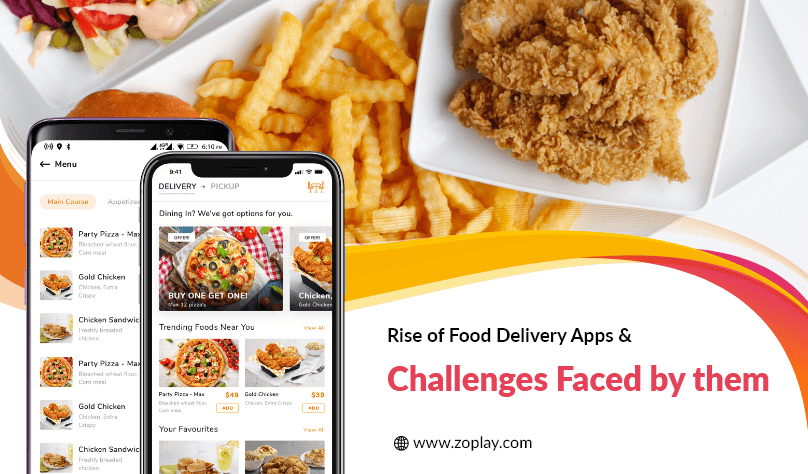 Rise of Food Delivery Apps & Challenges Faced by them
Rise of Food Delivery Apps
During WWII, thousands of Londoners stayed in bomb shelters for hours, and even days, on end. To keep them fed, the British government started delivering food to the shelters. Efficient and convenient, this wartime solution spread to the US after the war. Restaurants started accepting orders over the phone and deliver food home. 
'Online' food-ordering and home-delivery were born!
Ordering of food on the internet, however, began after Pizza Hut launched its website in 1994. In 1995, worldwidewaiter.com started offering food from 60 restaurants. But despite major campaigns, online food-ordering refused to be the order of the day – Until …
The Rise of Smartphones 
Smartphones with internet connections made it easy to order food online in the 2000s. It became even more so after firms like Uber Eats and Deliveroo launched dedicated apps. Using GPS and internet banking, they simplified ordering, tracking, and making payments. 
The industry continues to grow and is predicted to be worth $365 billion/year by 2030. 
Challenges Faced by Food Delivery Apps
For all its potential, app-based ready-to-eat food delivery is not without its challenges. Issues vis-a-viz customer loyalty and app development serve as dampeners of its prospects. In this section, you will read more about these challenges.
 1) No Loyalty 
This is arguably the greatest bane of this business. Intense competition means customers don't take a liking to any of the food delivery apps. They will sway to anyone offering the best food at the least possible prices. 
We can almost see this playing out in front of us with major players, as in the case of Swiggy and Zomato in India. The quality of services offered by these platforms does not differ much. Nonetheless, such players have to invest heavily in marketing to keep customer attrition in check.
 2) Cost of Creating Own App 
Even an average food delivery app should have at least the following features. 
1) Notifications: Essential to let customers know about discounts and other offers. This engagement is crucial to refresh customer memory about the app. 
2) GPS tracking: No delivery app can function without this feature. It helps the customer find the restaurant, check delivery time, and track the order. 
3) Payment: This is arguably the most important aspect. If this stage is difficult, you run the risk of annoying customers and losing sales.
But, the integration of these three features alone will cost a start-up a fortune. 
3) Need to have Dedicated Versions 
The development of any app is an expensive affair. But it is particularly so in the case of food delivery apps. You will have to develop three different platforms: 
A) App for the customer 
b) App for the delivery agents
c) App for the restaurants
 Each of these requires different interfaces, features, and updates. On top of that, you will also have to develop both Android and iOS versions of all these platforms.
4) Issues with Delivery
Expenditure on the app is likely to leave you with lesser funds for other investments. One of the critical investments should be in the training of delivery staff. This is because none wants their food delivered leaking or damaged. Also, training staff in the safe handling of food has gained importance with the onset of Covid. 
Tip: Clean delivery is crucial to satisfy people in an industry with no customer loyalty.
5) Ensuring Quality of Food 
The challenge here is to ensure the quality of food consistently. You might ask why this should be your concern. After all, you are just delivering food prepared by one of your restaurant partners. 
But, here too, the feeble customer loyalty plays a part. To a customer, you are the one serving the food. And, like an angry customer yelling at a waiter, a dissatisfied user will uninstall your app. 
The only solution is building a reward system onto the app for both restaurants and agents. This way, the restaurant partners will have to ensure consistent quality to rank well on your app.
6) Adhering to the Law of the Land
Depending on your area of operation, you will have to adhere to certain rules and conditions. These rules include:
A) Dispute redressal 
B) Labour laws
C) Taxation laws
D) Information Technology rules
How tough these laws might be will depend on the country or states you intend to operate in. What's more, with Covid remaining a threat, local bodies have brought in additional rules. For start-ups, such formalities can be a little overwhelming.
 7) Differences Between Estimates and Check-out Prices
Many food delivery apps do not explain the different charges above the price of the food. Examples of such payments include service charges and delivery fees. This leaves customers dissatisfied and felt ripped off. 
Such instances will also lead to reduced customer trust and revenue. The solution is to explain the changes in the final bill. This will dispel any misunderstanding the users might have.
 6 Reasons to Start Your Own Food Delivery business
1) Perfect Timing 
People love convenience. And few things are more convenient than getting one's food delivered to one's doorstep. Food delivery apps also broaden customers' options. It helps them find their favorite food from the restaurant of their choice. Also, the onset of Covid and the suspension of dining out have made food ordering more mainstream.
2) Robust Demand 
Food is one product that will never run out of demand. Moreover, youth moving into cities for work choose to order food rather than prepare them at home. They also try out different foods time-to-time, both for sustenance and for entertainment. 
3) Level Playing field
The food delivery business offers a level playing field for all. This is because of a lack of customer loyalty in the industry. Even bigwigs like Swiggy and Zomato don't command any loyalty from their customers. This means any start-up that can offer quality food at affordable prices can have a shot. 
4) Support to Community
Starting a food delivery business is an excellent way to support your community. You can help small-scale restaurants increase their reach and generate employment for youth. Of course, you will have competition from bigwigs. But if you use your connections well, the restaurants might ditch the big players for you. That's partly because of the harsh rules imposed by such companies.
5) Easy to Manage
Drivers will make up the largest piece of your workforce pie. And most will be driving/riding their own vehicles, so you don't have to invest in buying vehicles. Once you train your delivery partners, you can manage the business effortlessly. In fact, you don't even have to hire these staff full-time. You can offer them work when you get an order from their locality.
6) Availability of Dinedoo
Of all the challenges, the toughest is developing an app with sufficient features. But what if there is a way to overcome this challenge in a jiffy? 
That way is Dinedoo! 
Dinedoo is a ready-made food delivery app that you can buy off-the-shelf. You can add more functionalities and tweak the interface to make it unique for your business. The best part is that you can launch your food delivery business in just two days! 
As for the features that come bundled with the app, here are a few:
1) Registration: Collects the email/number and drops pin on user location. 
2) Quick onboarding: Displays top-rated restaurants and their menus. 
3) Customization: Learns user preferences and customizes offerings on the app.
4) Notifications: Engages with users by sending them alerts on offers and discounts. 
5) Tracking: Real-time tracking of order from restaurant to delivery spot.
6) Payment: Options range from cash-on-delivery to digital wallets.
When you buy Dinedoo, you will also get versions for delivery and restaurant partners. The platform also comes in Android and iOS versions. So, if you are an entrepreneur or a restaurant looking for its own app, Dinedoo can help you achieve your goal. IN TWO DAYS!