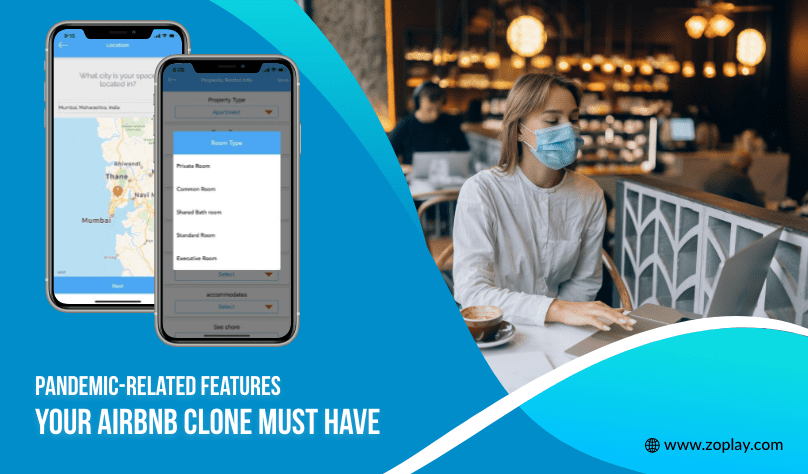 Pandemic-Related Features Your Airbnb Clone Must Have
Pandemic-Related Features Your Airbnb Clone Must Have
The pandemic took a significant toll on the vacation rental industry. It nearly brought bookings to a standstill. The peak of the pandemic was around mid-2020. And without a doubt, it was an excruciating time for property hosts, travel agents, and travelers.
But that took a turn when travel companies implemented new features and measures that aligned with the situation. On recognizing the problem, travel companies went on to change their booking policies. As they fit the needs of travelers during the pandemic, vacation rental bookings are now on the rise.
Launching an Airbnb-like app using a clone is an exciting venture. But have you factored in the things that have changed since the pandemic? In this article, we first talk about the current scope of launching an Airbnb-like app. Then, we'll discuss the necessity for implementing pandemic-related measures. Finally, we go over what features to look for when choosing an Airbnb clone. Let's get started.
Scope for launching an Airbnb-like app
The frequency of bookings was almost nil during the mid of 2020. Today, there is a lot of scope for deploying an Airbnb-like app in the market. That said, travel behavior has transformed. People are looking to book vacations, not for short periods, but weeks and months on end. It is because of the new work-from-home culture.
The leading vacation rental platform Airbnb saw bookings drop over 70% in 2020. At present, they are making a remarkable recovery. The company is doing this by addressing the pandemic and optimizing its services. In the same way, making sure your travelers feel safe booking stays on your app will lead your company to success. Let us discuss why this is important in detail.
Why ensure pandemic-related features in your Airbnb clone?
The government-ordered lockdowns are not the only reason why the vacation rental industry suffered. People stopped venturing out because of the coronavirus. Travelers in the present day look for pandemic-related safety before booking a stay. Without that, guests will not think twice about looking for an alternate stay.
Vacation rental companies that recognize the pandemic and provide solutions to travelers win over companies that do not. By ensuring a few essential features in your Airbnb clone before purchasing it, you can win a good amount of customers too.
Pandemic-related features to look for when purchasing an Airbnb Clone
The Airbnb clone you are about to purchase must align with the current pandemic conditions. With more features to make customers feel safe traveling, your app will have more bookings. Let's look at pandemic-relate features you should look out for when purchasing the vacation rental clone.
Cleanliness badge
Sanitization and cleanliness are vital during the pandemic. Guests have peace of mind when you ensure it to them. Your Airbnb Clone should be able to provide hosts with special cleanliness badges. Hosts can earn the badge by following the covid cleanliness procedures you specify to them.
Search filters
Travelers who book vacation rentals around this pandemic time are highly particular about where they want to stay. It could be a specific type of accommodation, at a specific location, with particular rules. Giving them a seamless experience to find what they are looking for is crucial. For this reason, your clone app must have search filters.
In-app communication
Guests may have questions about properties. And the only way to clarify them would be for the guests to connect with property hosts. Instead of exchanging long email threads and phone calls, your guests will find it easy to communicate with the hosts from within the app itself. Make sure your Airbnb clone has an in-app chat feature.
Property information
Hosts being as transparent as possible with their property attracts more bookings. For that, hosts on your app must mention comprehensive details about their properties. That includes specifying what amenities they have, such as hand sanitizers, regular cleaning, WiFi, and more. Look for the property information feature in your Airbnb clone.
Short and monthly stays
The pandemic is driving many people to book vacations not just for a few days but for weeks. The infamous work-from-home culture is the reason behind it. So it is vital to give your customers the option to choose between booking short and weekly/monthly stays. With this feature, travelers will have the flexibility to book a stay duration that suits their requirements.
Experiences
Besides vacation rentals, people stepping out of the pandemic are yearning to experience new things. They can be pottery, trekking, a cultural experience, or any other. With a dedicated section for 'experiences' in your Airbnb clone app, you can onboard hosts who want to offer exclusive experiences to customers.
Conclusion
Travelers are steadily increasing in the post-pandemic world. Travel companies that offer excellent pandemic safety measures enjoy the most bookings. In the same way, when you purchase an Airbnb clone, ensuring pandemic-related features in it will help skyrocket your business to the top.
If you are looking for a reliable Airbnb clone crafted for current travelers, then get Renters. It is a world-class vacation rental smartphone app that has all the features the original Airbnb app has. The software is compatible with both Android and iOS platforms. Moreover, it is fast, secure, and cloud-based.
Setting up Renters takes just a few minutes. You can start your business in no time with a fairly inexpensive investment. Learn more about Renters by getting in touch with our experts today.