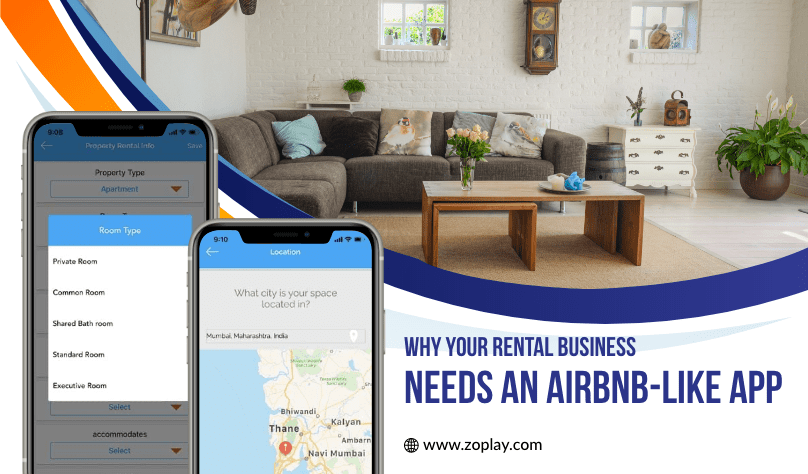 Why Your Rental Business Needs An Airbnb-Like App
Why Your Rental Business Needs An Airbnb-Like App?
The tourism industry has undergone a massive transformation since the advent of smartphone applications. More and more travelers are renting out vacation stays with a few taps on their smartphones.
This way of renting is in contrast to what guests had to do earlier to book a stay. They had to make long phone calls and exchanged lengthy emails with hosts.
If your rental business still exists without an app, then it is highly likely you are missing out on a lot of revenue. By launching an app like Airbnb, your organization will gain several benefits that will elevate business prospects to a whole another level.
You may be wondering if it's worth the investment, both in terms of time and money. In this article, we discuss the answers to that question. Let's get started.
The growing number of app users
First, let's look at why it is worth considering offering your services with a smartphone application.
Mobile software is thriving. There are over 3.2 billion smartphone users worldwide. That means this enormous population has access to thousands of applications. They could be taxi apps, shopping apps, and what matters to us, a vacation rental app.
People are increasingly preferring the convenience of using an app to purchase or hire what they want. That applies to holiday rentals too. It is convenient to use a mobile software application. All users have to do to book a room is perform a few swipes and taps. They can book a stay in the blink of an eye. And only smartphone apps can offer that convenience.
So to keep up with the competition, win the market, and emerge as a successful rental business in current times, launching an app is crucial. When you think of launching a vacation rental software, we recommend emulating what Airbnb does. We'll tell you why.
Why look up to Airbnb as an example?
Airbnb is the most popular and leading mobile software for renting out properties for a short stay. In addition to that, Airbnb offers experiences.
The leading vacation rental platform allows travelers to book vacation stays through its mobile app. Airbnb's app is easy to use and offers a handful of features that make the booking process a breeze.
The number of users on the Airbnb software is forecasted to reach 45.6 million by 2022. That is a drastic increase in users since 2012. It had only 6 million users then.
By emulating the app concept of Airbnb, your rental business also stands a chance to accrue millions of users. It also helps you compete against Airbnb and the likes of it in the market. Deploying an app like Airbnb in app stores can send your revenue skyrocketing.
Advantages of Launching an Airbnb-like app for Your Rental Business
Many strong reasons support the move of offering rental services via an app like Airbnb. Let's dive into each of them in detail.
Simple connectivity between guests and hosts
An Airbnb-like app allows individual landlords to put up their properties like apartments and condominiums for short-term rentals. The app lets them upload pictures and mention comprehensive details of the places.
Travelers can browse through various properties on the app after a simple sign-up and verification. They can communicate with the property hosts directly and then make the booking. An app like Airbnb will close the gap between guests and hosts.
Easy booking transactions
After aggregating hosts on the app with various vacation rentals, your customers can effortlessly book those stays. An Airbnb-like app gives guests the freedom to pay in any mode they like.
Payment options include cash, debit/credit card, mobile wallet payments, and cheque. Furthermore, travelers can keep track of their bookings, and the hosts can keep track of their earnings via the app.
Reach out to a wide audience
Smartphone apps are effective mediums for marketing services. By publishing a world-class app like Airbnb in the market, you stand to gain a large number of users in a short period.
As you provide outstanding services through the vacation rental app, you accumulate positive reviews. That, in turn, will encourage more users to sign up on your app and book properties. Eventually, your rental business's profits will shoot up.
Cut down operational expenses
An Airbnb-like app automates a broad range of booking tasks. When you have an app, you don't need an employee to:
Prompt users to make a payment

Reach out to customers

Display customers a catalog of vacation rental places

Negotiate prices
The app takes care of the processes mentioned above. That drastically cuts down your operational costs.
Gain valuable insights
Lastly, the more users your vacation rental software accrues, you will understand what your customers are looking for. An Airbnb-like app constantly analyzes user data in real-time. It then processes this data into meaningful reports and analytics.
They unveil what type of properties your customers are frequently buying, what features in your mobile software they most commonly use, what their suggestions are, and more. With this information, you can optimize the app experience for guests and hosts for higher returns on investments.
Summing up
Travelers who call up rental businesses to book vacation stays are fast declining. Today, travelers reach out to smartphone apps as soon as they think of renting out a place for their vacation. To keep up with the latest market trends and to ensure success in your rental business, it is crucial to launch an Airbnb-like app.
If you're planning on building an app like Airbnb, then using an Airbnb clone app can save you a lot of time and money in developing the software. While it is quick and inexpensive, it does not compromise the standards of the software. Get Renters.
It is a world-class Airbnb clone that contains all the industry-leading features like the original Airbnb app. Get in touch with us to know more.