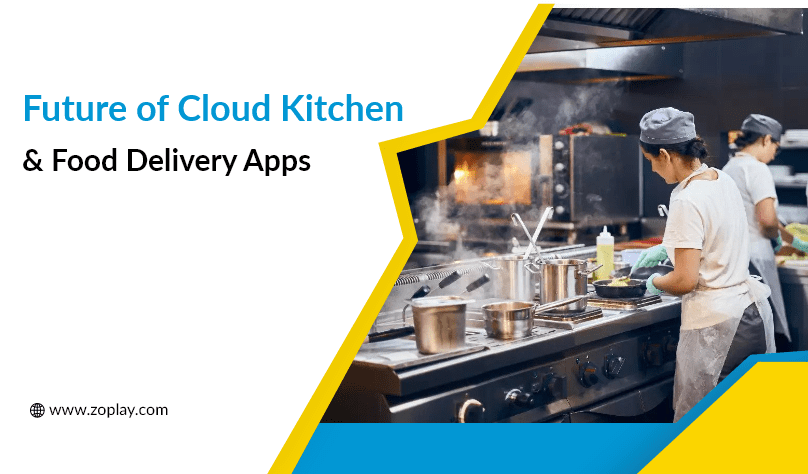 Future of Cloud Kitchen & Food Delivery Apps
Future of Cloud Kitchen & Food Delivery Apps
The global pandemic has completely altered the way the world has lived so far. Most people have now turned digital willingly or unwillingly.
People now choose to make payments online and even order things online, including food and other essentials. Since dine-in is a thing of the past, most restaurants are now opting for a "delivery-only" model. Thus, the concept of cloud kitchen is becoming popular by the day.
What is a Cloud Kitchen?
Most of us have heard about cloud storage. It has changed the way people store their photos and memories these days. Cloud storage is not a physical location, but you can access it remotely to store your digital valuables.
Similarly, cloud kitchens are commercial facilities that are built on cloud technology. Also known as ghost kitchens or virtual kitchens, they produce food that is only meant for delivery and take-aways. There is no 'physical existence,' meaning you cannot dine in at such a restaurant. Cloud kitchens can be run from any place, even your home.
Role of Cloud Kitchen in Food Delivery Business
Cloud kitchens play a crucial role in the food delivery business since they do not have a dine-in facility and depend on online orders. Thus, it has to rely on online marketing and various food aggregator services like Zomato, UberEats, Swiggy, etc.
 1.Save on Marketing
The online food aggregators already have a ready user base. Listing your cloud kitchen in such an online food aggregator service can be the mantra for success.
All you need to do is visit the website of these online food delivery aggregators and enlist your service. Once you register with the details of your kitchen and the verification process is completed, you can start receiving orders. Just upload your menu card, cloud kitchen logo, and some pictures of the food dishes you intend to serve.
 2.No Need for Logistics
By opting to work with online food aggregators, you can save on logistics. You wouldn't need your own delivery fleet or spend on delivery expenses. Of course, you would need to pay a certain amount of commission to the food aggregators, but it will be completely hassle-free.
 3.Hassle-free
A cloud kitchen is a wise idea. It's a low-risk and low investment business opportunity that yields high profits in a short period. You do not need a physical location and lots of employees to serve your customers. Just subscribe to the apps, receive orders through the apps, prepare food, and you're done.
 4.Location is Not a Factor
You don't need a prime location property for your cloud kitchen business. Instead, you can set it up even in a 300 square feet space. You do not need to spend your budget on furniture and interior décor. You can also choose to opt for shared kitchen space with a partner. It is imperative to say that this brings down the establishment cost to a huge extent.
 5.Only Need Food Licenses
You need to spend some time and money acquiring specific food licenses and certifications for opening the cloud kitchen. There are many legal hassles if no licenses are available for hygiene, food preparation, and safety.
Some of the licenses you need for a cloud kitchen start-up include the FSSAI, NOC from the fire department, GST Registration, etc.
Add these certifications to your kitty. Promote these certifications on your homepage on the apps to attract customers.
 6.Minimal Serving Cost
Apart from investing in essential kitchen equipment to start the business, you also need to invest in food packaging. Regardless of how good the food is cooked or presented, it can ruin the customer experience and earn you a bad reputation unless it is packed well.
Depending on the type of cuisine you are serving, you can use affordable plastic containers, boxes, spoons, and carry bags. You don't have to invest in high-end cutlery.
 7.A Few Helping Hands
Since a cloud kitchen has no dine-in facility, you do not need a lot of manpower for your business—just a few helping hands who would help you with the food preparation and packaging.
4 Reasons to Start Your Own Food Delivery Business with a Mobile App
Starting an online food delivery is the most simple and low investment business that you can do. Here are the top four reasons why you should go for an online food delivery business:
 1.It Has a Low Operational Cost
Online food delivery is easily manageable. All you need is to hire a batch of people to take care of the delivery system. Encourage your delivery persons to involve their own transport. It will be cost-effective for your business and make it convenient to run your business smoothly.
 2.Online Food Delivery Is Highly Profitable
Most families have both the members working full time. It often happens that they order food online since there is no time to cook. Food being a basic necessity, most working people are now comfortable ordering food from outside after a hard day's work. Of course, it is imperative to say that when you have an online food delivery to offer, it will give you high profits in a short time.
 3.Online Food Delivery is a 24/7 Business
Starting an online food delivery system can earn you profits all 24/7 if you are up for it. People keep ordering food at all times, and hence if you can ensure your service all 24 hours a day, it can become a very profitable business venture for you.
 4.Use a Customized Food Delivery App for Your Online Delivery
Online food deliveries are in huge demand these days, primarily because of the pandemic. But to start a cloud kitchen delivery, you need to have a customized mobile food application through which you can take and deliver orders. But you need to choose a good app for your business to take care of all the aspects of a food delivery app.
How to Choose a Food Delivery App Company?
There are four aspects to look for in a food delivery app. They are as follows:
The customer user interface

The admin panel

The restaurant interface and

The delivery person interface
When you choose an app developing company, you have to ensure they can provide you with the following features:
 1.Complete Customization of the Food App Design
Always choose complete customization of the food app from the app company. It will help you change the user interface design for your food app as per your requirement and convenience.
 2.Total Customer Service
Choosing a food app is the beginning. You need to get it uploaded on the server and the play store for downloads. Hence, the app development company must provide you such services after-sales.
 3.Four Interfaces of a Single App
The app development company must provide you with four interfaces in a single food app. The four interfaces are one each for the customers, the admin team, the restaurants, and the delivery persons.
There are several things that you must consider while choosing a good app development company of repute. Check their script if they are completely updated with the latest features.
Since the technology is constantly changing, you need to stay updated on these fronts with your cloud kitchen business too. There are always many additional options available on various food apps. Your app should also be able to clone those features to make them convenient for your business.
Advantage of Choosing a Food Clone App
Why would you want to invest money and time developing a new food delivery app when you can purchase it from an app cloning company? Several app cloning companies have a customized food app clone that is ready for purchase. For instance, if you choose the food clone app "Dinedoo," you can purchase it and start using it within two days. The investment is not huge to cut a hole in your pocket. It is well within your budget and a wise thing to do.
Some of the features of the Dinedoo App are:
Dinedoo is a clone app, and it works absolutely like the other food aggregator apps like Uber Eats and Swiggy. This app is available on Android and iOS.

Since this is a ready-made app script, you do not even need to invest months in designing or testing the app.

The Dinedoo team will also customize your food app with color changes and other customizations. You can also add other functionalities and features to their app as per your requirement.

No development is required, which saves a significant sum of money from your business capital.
Since you have "Dinedoo" readily waiting for you, what is it that you are waiting for? Plunge into the food delivery venture that you have always longed for.