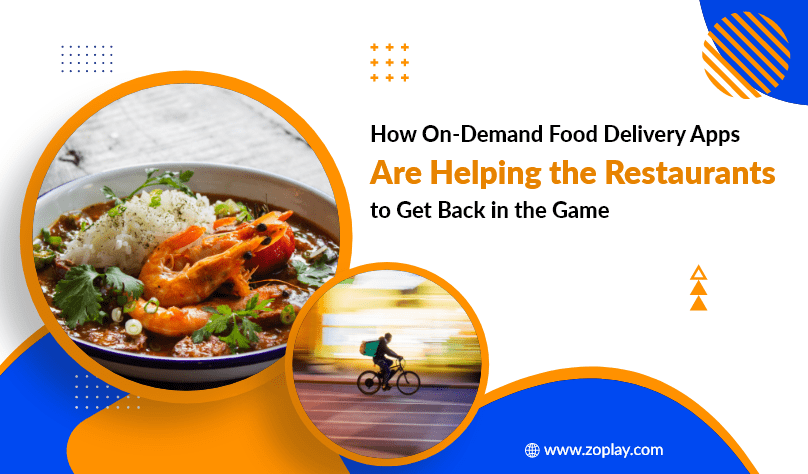 How On-Demand Food Delivery Apps Are Helping the Restaurants to Get Back in the Game
Impact On Restaurants Because of Covid
The rapid spread of Covid all across the world stifled the global economy. Among many industries that suffered, the food industry – restaurants, in particular, were the worst hit. Restaurants that used to teem with customers wore a deserted look because of the pandemic.
A wide range of factors stalled food sales in restaurants. Let's take a look at what they are.
Lockdown – To curb the spread of the novel coronavirus, governments in several countries imposed nationwide lockdowns. That led to the mandatory closing of restaurants.
Public fear – Even after lifting lockdowns, customers continued to avoid dining in restaurants. The apprehension resulted from the fear of contracting covid.
Takeaways/home deliveries – As dining in was considered a risk, customers increasingly preferred takeaways and home deliveries.
Financial loss – Restaurants that did not offer takeaways bore the highest financial losses. It even led to the permanent closure of some establishments.
At present, restaurants are following new covid guidelines to ensure the safety of their customers. That includes:
Encouraging takeaways

Easily accessible hand sanitizers

Temperature checks for staff and customers

Social distancing-based seating
Restaurants that have reopened dine-in services are slowly inching to normalcy. On the other hand, the frequency of customers ordering home deliveries is skyrocketing. If you're looking to boost your restaurant's profit margins, we recommend signing up for our on-demand food delivery app. Let us explain.
What is an On-demand Food Delivery app?
An on-demand food delivery app is a mobile software application that allows customers to easily place food orders from restaurants within a specific geographical location. It contains features that make browsing, choosing, ordering, and paying a hassle-free experience.
On-demand food delivery apps are widely popular today. Owing to the pandemic situation, customers are discovering and ordering from new restaurants. Moreover, customers find having food delivered to the doorsteps convenient. It allows them to enjoy their favorite dishes in the comforts and safety of their homes.
How is it helping the restaurants to get back in the game?
Food delivery apps are helping restaurants get back on their feet after the pandemic. As customers have anxiety over contracting the infection, they are increasingly taking to food delivery apps. It is a significant reason why the number of restaurants partnering with food delivery apps is soaring. Let's look at how these mobile software applications are helping restaurants get back in the game.
Wider reach – The pandemic has made it difficult for restaurants to gain visibility. At present, a strong online presence is a must for attracting customers. And that is what food delivery apps provide. By registering with a popular on-demand food delivery app, restaurants gain exposure to a large pre-existing customer base. Ultimately, partnered restaurants get more order requests daily.
Ease of use – Food delivery apps are easy to use. It only takes a few taps of a button for customers to order their favorite dishes to their doorsteps. These apps have cutting-edge features to assist the hungry in placing food orders. They allow customers to browse through various restaurants and menus, customize meals, pay online, track their order status and finally leave reviews.
Discounts – Restaurants can choose to provide instant discounts and offers when they use a food delivery app. They can launch exclusive memberships and incentive programs that knock a few bucks off from the total cost. It is a lucrative strategy that many restaurants are using to gain many customers within a short period.
Hassle-free delivery – By simply signing up with a food delivery app, restaurants gain a good amount of visibility within a specific radius. In addition to that, deliveries from the restaurant to customers get taken care of by the delivery platform. Restaurants need to pay only a small fee as a commission for the service.
All of these food delivery app factors are collectively enabling restaurants to turn over a higher profit.
List of Popular On-demand Food Delivery Apps
There are numerous popular on-demand food delivery apps. Each of them has a unique interface and features. Essentially, all of them have two purposes. One – to connect customers and restaurants. Two – to facilitate food deliveries from restaurants to the doorsteps of customers. Let's glance at the most popular ones.
UberEats – Uber Eats is a highly acclaimed food delivery app available in hundreds of cities in the world. This mobile software has a large customer base and charges customers a delivery fee of about 15%.
Zomato – Zomato is a popular food delivery app in India. In FY21, it had 32.1 monthly active users. This delivery app charges 7% of the total orders restaurants receive through the app as a commission fee.
DoorDash – DoorDash delivers to over 850 cities across North America. It charges a delivery fee of about 10-11%. DoorDash offers a premium subscription service called DashPass. By subscribing to it, customers get free unlimited deliveries from hundreds of restaurants.
Common Features of Our On-demand Food Delivery Apps (UberEats clone):
Now, let's dive into the features built into our on-demand food delivery app. Considering the pain points of customers and restaurants, we have added a list of industry-leading features to our app. They are:
Search tools – Customers can search dishes by name or can sort through restaurants using filters.

Confirm/decline orders – Restaurants and delivery agents have the freedom to accept and decline order/delivery requests.

Notifications – Alerts keep customers, restaurants, and delivery agents notified of food preparation and delivery status.

Multiple payment modes – Customers can pay for food deliveries via cash, debit/credit cards, and mobile wallets.

GPS tracking – Customers can view the precise location of delivery agents on a map.

Multilingual – Our app supports more than one language. Users can change it according to their preferences.

E-invoice – After the completion of every delivery, customers receive e-invoices on their apps as well as in their emails.

Feedback – Customers can leave feedback on delivery agents and restaurant service.
With our food delivery app, your restaurant business will not only recover from the losses during the pandemic but will do much better than ever. Purchase our food delivery app today.