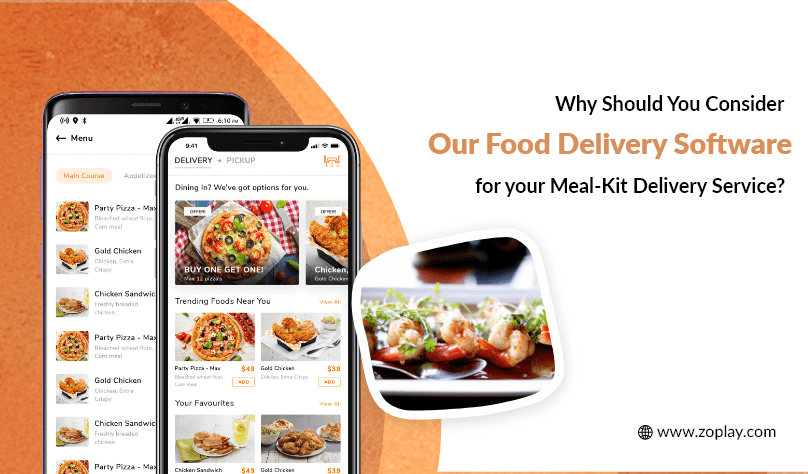 Why Should You Consider our Food Delivery Software for your Meal-Kit Delivery Service?
Meal-Kit Delivery Service
For the kitchen-savvy and the health-conscious, meal kits are a blessing. They contain fresh, pre-proportioned ingredients with easy-to-follow preparation instructions. Delivered in a box, meal kits are the perfect dietary solutions for busy individuals. Because they often have little time to go to the grocery store, and frequent takeaways can get heavy on the pocket quickly.
The value of the meal-kit industry is estimated to be over $1.5 billion. While it indicates plenty of economic opportunities, it can also be challenging to manage and execute deliveries. That's where we lend a helping hand. Our food delivery software seamlessly delivers your meal kits to a large target audience. Focus on prepping up meal kits, and the food delivery companies will take care of the logistics.
How Does a Meal-Kit Delivery Service Work?
There are many reasons why consumers prefer meal kits. One major reason is that those boxes containing food ingredients arrive right at their doorsteps. Placing an order for meal kits should be a hassle-free process. It should also be simple for your business to accept and respond to those order requests. That is what a meal kit delivery service does. It takes care of and facilitates both of them.
A meal kit delivery service allows customers to browse through and order meal kits using a website or a smartphone application. And in response, you can accept and prepare the meal kit order for dispatch. Then, the task of delivering it to your customers gets auto-assigned to nearby delivery agents.
On the whole, the delivery service connects three entities – your business, customers, and delivery agents. It ensures timely preparation and delivery of meal kits to the right customers.
How to Earn Using Meal-Kit Delivery Services?
To begin earning using meal kit delivery services, you will need to sign up for one. By filling out the delivery platform's registration form, you can avail of its services to get your meal kits from your business to customers' doorsteps.
For every delivery, the platform offering the service charges a small commission on the total value of the meal kit order. That commission gets split between the delivery agent and the company itself. So, the rest of the order value is yours to keep. The small price is insignificant compared to the enormous costs you would have to bear if you take care of the logistics operations by yourself.
By partnering with a meal kit delivery service, you can concentrate on preparing and packing meal kits. The delivery service will efficiently handle the deliveries.
Big Players in Meal-Kit Delivery Service
Meal-kit delivery services are relatively new. Nonetheless, several big players are offering exceptional services that enable consumers to whip up tasty dishes. Let's take a look at some of them.
Home Chef – Home Chef allows customers to choose what meal kits they want to order more than a month ahead of time. This meal kit delivery service's menu consists of a variety of dishes. And consumers have the option to customize them according to individual dietary restrictions.
Sunbasket – Sunbasket is another highly acclaimed meal kit delivery service. They are popular for delivering produce and meat that are organic and antibiotic-free. They cater to special diets such as keto, paleo, vegetarian and vegan.
Green Chef – As its name implies, Green Chef is a meal kit delivery service that takes carbon footprints seriously. All of their produce is organic. As for their packaging, the cardboard boxes and paper bags are reusable and recyclable.
Gobble – Gobble delivers food ingredients that are pre-washed, peeled, and cut. Cooking meal kits from this delivery service requires minimal effort and is a quick process. They have a wide range of specialty menu options for individuals who want options to choose dairy-free, high-protein, and other unique types of diets.
Why Should You Consider our Food Delivery Software for your Meal-Kit Delivery Service?
To help you launch a stellar meal kit delivery service, we bring you a robust and powerful food delivery software solution. It contains a plethora of industry-leading features that will take your business to the next level. Most importantly, its user interface is easy to understand and navigate through. Now, let's take a look at some of its features.
Order request management – You and delivery executives have the option to either accept or reject orders.

Menu system – Customers will be able to peruse through all the types of meal kits you offer with their prices and pictures.

Delivery schedule – Users can specify when they want their meal kits delivered to their doorsteps.

Multiple payment modes – Our software gives customers multiple payment mode options. They include cash, debit/credit card, and mobile wallet payments.

GPS tracking – You and your customers can track the location, status, and ETA of the delivery agent.

Feedback system – Customers can leave reviews in the form of star ratings and comments about your meal kits.
Furthermore, our food delivery software comes with exceptional customer support. Ready to take your meal-kit delivery service off the ground? Purchase our food delivery software today.