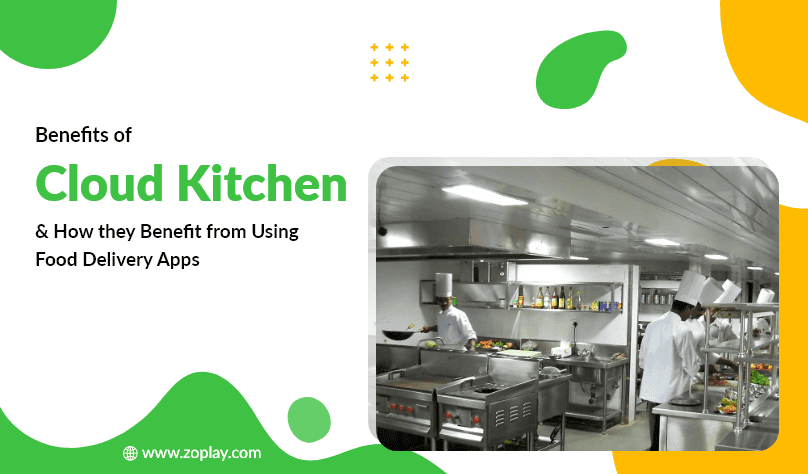 Benefits of Cloud Kitchen & How they Benefit from Using Food Delivery Apps
Cloud Kitchen Benefits – Food Delivery App
What is a Cloud Kitchen?
"Too many cooks, spoil the food." You would have probably heard of this quote but did you also know that too many cooks under one roof can make magic? We all have heard of cold storage spaces where we store our documents and pictures but have you come across cloud kitchen? Yes, with better avenues opening up in the food industry, entrepreneurs are looking at how to find the best shot in what they have by making sure they're not overspending. Cloud kitchen is something that allows such entrepreneurs.
The future of cloud kitchen seems impeccable. As per a report by RedSeer Management Consulting, cloud kitchen will soon become a record-breaking $2 billion industry in India by 2024. Cloud kitchen is transforming the food business in India drastically. This allows many entrepreneurs to achieve their dream of becoming a chef or start their own food business or unit.
Benefits of Cloud kitchens
Cloud kitchen is for all those aspiring chefs who want to make their mark in the food industry but want to play it safe with the initial investment. Not many can initially afford to put in a huge sum to create a restaurant business. Many prefer humble beginnings to compromise on a few things like setting up a fully functional restaurant with a good ambiance. This is where a cloud kitchen comes to play, and many are thankful for this new opportunity. And so, some of the great benefits of starting off in a cloud kitchen are:
No additional costs on maintenance – One of the biggest costs involved in setting up a traditional restaurant is spending money on its maintenance. It could be cleaning, furniture, fixtures, and more. This can be avoided in a cloud kitchen. In a cloud kitchen, a food business is provided with all necessary infrastructure and they just have to pay rent in return.

Ace the service game – With multiple locations with a cloud kitchen, a food business can have an opportunity to serve their customers quickly without compromising on the taste. This means, more business because you are up in the game of pleasing your customers with uncompromised food. This can also change the entire game plan when done constantly.

Versatile food menu – A traditional restaurant set-up would require an entire re-work of the menu if they are to experiment with new foods. A food business can quickly adapt to the fads and food trends through a cloud kitchen and serve their customer base smart and better.

Expansion opportunities – It provides better expansion opportunities to open multiple bands or multiple kitchens for the same band. Depending on your marketing strategy, you can decide and make your business bigger and better.

Competitive pricing – A physical restaurant would need more costs than running a food business through a cloud kitchen. Based on this, you can quote and experiment with various pricing strategies, given that the only extra cost is on delivery. This experiment can let you have a competitive edge over other businesses.
Why Should You Launch Your Own Food Delivery business?
Food is an insatiable craving that any human has. No matter how or where the world heads, if there is one thing that is always in demand, then it is food. It is the most satisfying aspect of anyone's life.
Everyone works only for bread and butter, and there is no denial in that fact. So, when it comes to considering starting a food business, there can never be a second thought. Yes, it heavily relies on other market factors like the customer base and competition, but it always has a place to click.
According to the Harward Business Review, food demand is expected to increase anywhere between 59% to 98% by 2050. And now you know that there is no better reason than 'demand' to launch your own food delivery business.
If you are someone looking into it seriously, then all you need is a cloud kitchen or a home kitchen and an application that will help you stay in touch with your customers. Yes, as much as food is important to people, they need ease of access, and this means that they do not want any hassle in ordering food from you. And that's where we come in.
Dinedoo is an application where you can set up a delivery and order service for your kitchen online. How does it work? It's pretty simple. It works like any other food delivery app out there just that, but unlike the other applications, you are going to get to set your kitchen on the app in the easiest way.
With our application, you can buy and launch your kitchen after setting it up as per your customization in just two days. Colors or functions, we are there for you to get your kitchen app customized as per your style and requirement.
Our app has these features to make your tasks simpler and get you going with your food business:
Registration – Our customer registration process is pretty simple, and we do not stress your customers with long procedures. This means it is hassle-free and more customers would want to onboard.

Food Search – Our smart list feature will help your customers find exactly what they are searching for. Our food search feature makes tasks simpler, meaning hungry people can find what they are looking for without getting annoyed anymore.

Push Notifications – These are very important when it comes to understanding user experience in a food app. It tells people the status of their food. It helps to keep the customer informed, so they don't get panicky about their food order.

Discounts rewards and cashback – This is also a great method to pull in more customers to make them want to order from our application which eventually means exploring your kitchen as well.

GPS Tracking of the food – Every customer likes to know what's happening with their food. It also helps the delivery person find the food-delivery location. It improves efficiency and provides a better user experience.

Simplified payment option – One thing that many customers often get annoyed about is the complex payment gateways. It is necessary that the payment options have better integration with payment apps and also offer hassle-free payment processes.
If you are a budding entrepreneur and are looking to start a business that will help you find the best course in the food industry, then starting up your own food delivery system is the best thing. If you want to start your own food delivery business, then we would love to get in touch with you.