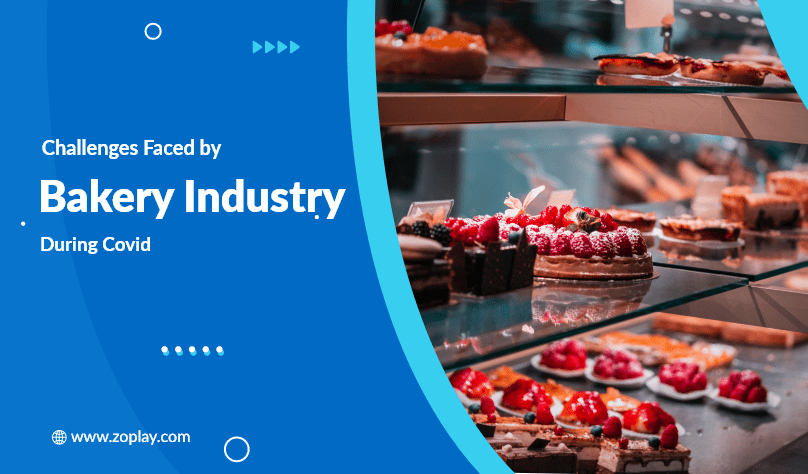 Challenges Faced by Bakery Industry During Covid
Challenges Faced by Bakery Industry Nowadays
Training and Retaining staff
Bakery owners have a hard time retaining staff that they have trained because baking isn't yet seen as an attractive career path even though home bakers and businesses are thriving. Keeping staff that bakers have trained on a long-term basis has become a challenge many establishments face.
Consistent Access to Top Quality Ingredients
Supply chain breakdowns or lockdown restrictions have made it difficult for some bakeries to rely on manufacturers or local grocers for their primary and premium ingredients. Thus, making it imperative that bakers have multiple sources to procure ingredients.
Allergen Concerns and Systems
Bakeries have to buy additional equipment and machines to avoid cross-contamination between different production lines that use critical ingredients like nuts, gluten, etc, that can be harmful to people with allergies. Post-production clean downs and implementing strict hygiene and safety guidelines can help this process.
Changes in Eating Habits
The baking industry continuously comes under scrutiny due to various eating and dietary changes. Gluten, carbohydrate, calorie counting and sugar limitations are just some eating changes linked to foods that bakers produce. Any changes in these consumption habits have a significant impact on bakers and their sales.
Future Uncertainty
The pandemic, economic instability, lockdown restrictions, and temporary forced closures have influenced the baking industry greatly. However, many bakers can still find a way to thrive in their communities with new safety and hygiene procedures. Bakers who implement a better distribution system have become the leading suppliers to people locally by offering safe home-delivery of their fresh baked goods.
Hygiene and Food Safety
The baking industry and individual bakers have to be aware of foodborne disease outbreaks. Updating their manufacturing factories to comply with the latest food and hygiene regulations is a must and comes with added costs and setbacks. However, these actions are necessary to avoid food recalls and outbreaks. Keeping abreast of all local and international food regulations will help bakeries navigate the future of the industry.
Future Trends in the Bakery Industry
Limited Edition/Seasonal Baked Items
Curated baked goods for specific seasons, festivals, and occasions are fast becoming a hot ticket item to purchase and gift. Baked-good hampers, novelty cookies, or limited edition pastries appeal to regular customers and entice prospective ones.
Sustainable/ Locally Sourced Ingredients
The upward trend of buying local and being a more conscious consumer has also affected the baking industry. Bakers are now actively sourcing ingredients that have a low carbon footprint, are sustainable and locally sourced so they can offer customers their favorite treats but with a more mindful and guilt-free tag.
Healthy Alternatives
Health consciousness, dietary restrictions, and the growth of the fitness and nutrition industry have called for the bakers to up their game. Eating habits are changing due to health concerns; therefore, bakers have started to produce goods that are gluten-free, sugar-free, high-protein, low-carbohydrate, etc. These healthy alternatives open up new demographics and reach a broader customer base.
Personalization and Customization
The rise of specialty cakes, custom cookies, and dietary restrictions calls for bakers to offer their customers a more bespoke baked goods experience. Standard cakes for birthdays are a thing of the past. Nowadays, personalization and customization are highly sought after and usually come with a higher price tag that many customers are willing to pay. Edible inks, gluten-free cookie doughs, vegan cakes, and even sustainable packaging are just some of the trends that are here to stay.
Exotic Fad Foods
Flavor profiles are changing; customers are looking for the next big food fad to try and post on their social media. Cronuts, funfetti birthday cakes, brookies, and even the red velvet cupcake were all overnight sensations. Currently, it is the best time to be a baker and experiment with exotic flavor profiles because consumers are open and willing to try out their creations no matter how outlandish.
Visually Appealing
Run-of-the-mill baked goods like a baguette or simple chocolate cake are no longer appealing to customers who now gravitate towards visually stunning or appealing creations. The rise of Instagram has seen a huge trend in food that translates well as a social media post. Pastry chefs are creating one-of-a-kind items for their customers that are aesthetically pleasing and involve several gastronomic techniques and unique flavors.
How is the Bakery Industry benefiting from Food Delivery Apps?
The post Covid-19 world has made it almost mandatory for bakers to depend on food delivery apps to market and sell their baked goods due to lockdown restrictions. Bakers who have a listing on a food delivery app need not worry about operational efficiency because the app will take care of online transactions, management of non-contact deliveries, transportation, and hygiene standards. Additionally, these apps help boost a bakery's exposure and growth. Plus, it offers the convenience of easy orders and payment for their existing and new customers.
According to Statista, the online food delivery market is estimated to reach USD 182,327 million by 2024. Therefore, having a listing on a food delivery app will significantly benefit your bakery during these unprecedented and unpredictable times.
Do You want to know how to start a food delivery business?
Here is a list of Top-features Available in our Food Delivery app:
Accurate Real-Time GPS Tracking – This vital feature allows two-way tracking. Restaurateurs can find a client's address and monitor personnel. Users can track food orders from the time of payment to their doorstep.
Easy Payment Options – The last step of any successful food order is online payment. Our app incorporates all leading payment gateways and mobile wallet services such as Google Pay, Amazon Pay, iOS wallet, as well as online banking, cash on delivery, and credit/debit card transactions. Additionally, you can offer coupons or promo codes upon check out.
Push Notifications – Stay connected with customers through gentle reminders on their smartphones. Convey various information such as discounts, offers, order status etc. Push notifications are a great way to create visibility that drives traffic to the app and helps you stray ahead of competitors.
Social Media and Messenger Integration
Our app allows customers to share restaurant pictures, locations and food pictures on their social media and their family and friends. Additionally, customers can decide on dining out/ take away options by sharing their favorite restaurant listing or dishes via popular messengers such as Whatapp, Instagram DM etc.
Ratings & Reviews
Create a community of food critics and help food businesses gain more customers through our ratings and reviews section. Businesses can also communicate with customers and gain valuable insights and constructive criticism to help them make changes to their food quality. Additionally, app users can rate and review the food app on android or iOS, so that we can make improvements and compete with other competitors.
Easy to Use UI design
Taking into consideration the needs and wants of customers, food businesses, and delivery personnel, we created a responsive, clean, and easy-to-use user interface design. Place orders, make payments, get info on delivery personnel, book tables etc. – everything can be done with our fast-acting and fast-loading UI. We have ironed out all the kinks so that no matter who is using the food app, they will be able to explore and navigate it smoothly.
Feature-Rich Admin Dashboard
Admins who access the food app will be able to manage every aspect of their listing through the dashboard. Here they can change the content of the menus and marketing campaigns, monitor deliveries, get monthly statistics based on orders, revenue, cancellations etc. The dashboard helps admins get a clear idea of how well their restaurant/food business is doing on the food app.
So, if you Want to Start Your Own Food Delivery business, get in touch with us.