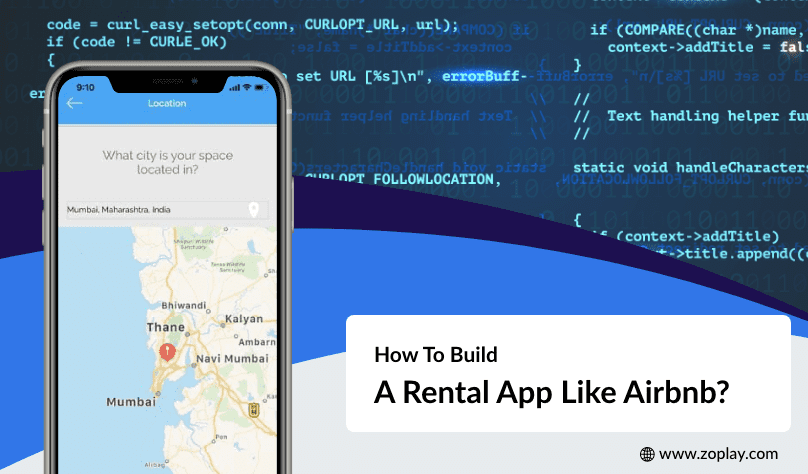 How To Build A Rental App Like Airbnb?
How To Build A Rental App Like Airbnb?
Advancements in technology have transformed the vacation rental industry. The sector is witnessing a drastic growth in rental spaces because of increasing demand. And the primary driver of this uptrend is smartphone applications.
In the earlier days, booking hotels was less complicated than finding reliable vacation stays for rent. That is fast changing today. Mobile software is closing the gap between rent-seekers and rental providers.
Not just rental spaces, individuals can even book experiences on modern rental smartphone apps. The booking process is easy. The convenience is luring more customers to rent out vacation spaces. In turn, it is causing more homeowners to put up their places on the app.
There is a lot of scope for entrepreneurs who want to build and launch their own vacation rental app. The most popular smartphone app in the rental segment is Airbnb. It generated a revenue of $3.38 billion between 2017 – 2020. So when you build a rental app, it is wise to emulate what Airbnb does.
In this article, we discuss how you can build a rental app like Airbnb in detail.
How Airbnb works?
Before we go over the process of building an Airbnb-like rent app, let's first understand how Airbnb functions. It will give you an idea of the areas in your app that need the most focus. Consequently, you can build a world-class vacation rental app.
Airbnb works in the following way:
Hosts sign up and register their property on the Airbnb application

Hosts mention details of their properties like what amenities they have, how many guests they can accommodate, and what restrictions they have

Then, the hosts upload photos of the property and make them available for booking

Now, customers seeking rental spaces sign up on the app

Customers upload identification information such as photos, ID proof, etc.

After that, customers can view a catalog of rental spaces to stay in

The customers then select a place and make a booking

As soon as the host accepts, the guests can be well on their way towards the rental place
How to craft your own Airbnb-like app?
To build an app like Airbnb, you need to implement components that Airbnb has in its software. That will help your app to function similarly to that of the leading vacation rental platform. Let's look at who you need for creating the Airbnb-like software, and what you need to add to your app in detail.
Assemble the right talent
Building a rental mobile software requires a number of talents. Your app will take shape with the help of the following specialists:
Project manager

UI/UX designer

Back-end developers

Front-end developers

Android and iOS developers

QA analyst
The combined efforts of these individuals will bring your mobile application to life.
The developers you hire depends on what operating systems you want to launch your app. If you are looking to launch the software on Android, you will need to hire developers skilled in programming languages like Kotlin.
Similarly, for launching your app on iOS devices, you will need to hire developers with extensive experience using programming languages like Swift.
Design the app
UI/UX designers are responsible for overseeing how your app will look, feel, and function. Ensure that your rental software sports a minimalistic design that is visually pleasing. Avoid cluttering too many buttons, icons and content together on a single page. Keep navigation buttons well-spaced out. And finally, use a uniform theme color and font throughout the app.
You will need to design two different versions of the app. They are the admin panel for administrative control of the rental application, and the user app for guest and host use.
After designing the app, it's time to begin implementing Airbnb-like features.
Incorporate industry-leading features
Here's a list of essential features to have in your vacation rental platform:
Easy registration – Allows hosts and guests to sign up on the app using social and email logins.

Search filters – Allows guests to sort vacation stays according to price, guest numbers, etc. Guests can also search for a specific property.

Accommodation information – Enables hosts to mention details about their rental place and upload pictures of the property.

Verification – Guests and hosts can use this feature to upload ID proofs and validate their identities.

Multiple payment modes – Guests will be able to book vacation stays with debit/credit card and mobile wallet payments
Implement an Airbnb-like business model
Your app needs a business model to generate revenue. Just like Airbnb, you can charge a booking fee of about 6-12% on every booking they make. In addition to that, you can levy a 3-5% commission fee on every transaction a property owner receives via your app.
Test the app
Just before you launch the app, your QA analysts and engineers will need to test your app. By running it in several live environment simulations, your engineers will tweak any discrepancies that arise from it. Once your app is free of any bugs or glitches, your app is ready for deployment in the market.
Conclusion
Building and deploying your very own vacation rental mobile software is a highly lucrative opportunity. However, crafting the app from scratch can be costly and immensely time-consuming. Not to mention the many development obstacles the process can face.
A more viable alternative to developing an Airbnb-like app from the ground up is to use an Airbnb clone. It saves you a lot of time and money.
An Airbnb clone app is a ready-made app that is identical to that of the original software. It is open-source, so all you need to do is purchase it, customize and rebrand it, and launch it in the market. If you're looking for the most comprehensive Airbnb clone app, then we recommend Renters. Get in touch with us to learn more.